Excerpts from the Briefing by Foreign Ministry Spokesperson Maria Zakharova
November 30, 2016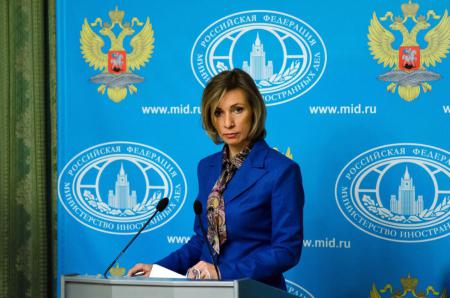 Norway's decision to extradite Russian citizen Mark Vartanyan to the United States

Some media, in particular the Dozhd television channel, asked us to comment on Norway's decision to extradite Russian citizen Mark Vartanyan to the United States.
On November 29 Norway made a final decision to extradite Russian citizen Mark Vartanyan to the United States at the request of US law enforcement.
Norway did not consider our repeated appeals to take an unbiased and objective approach. We explained many times that this case is an element of the global hunt for Russian nationals conducted by US intelligence, which has nothing to do with the true interests of justice and is a gross violation of international law. Russia provided detailed assessments of such cases in the context of European and global conventions on human rights and freedoms. Yet our arguments went unheeded.
This decision is obviously politicised. It is at odds with the universally recognised criteria of law and justice. We perceive it as yet another attempt to ignore Russia's opinions and concerns and, of course, the rights of its citizens.
We'll take this into account as we move forward in relations with Norway.
UK Defence Secretary Michael Fallon's comment that Russia should not be treated as "any kind of equal partner"
As you may be aware, UK Secretary of State for Defence Michael Fallon suggested that President-elect Donald Trump should not treat Russia as an equal partner, which is what, he said, the UK is expecting from the new US administration.
In a bold statement, Mr Fallon said the following: "I think you have to distinguish between the campaign rhetoric of President-elect Trump and what he does in practice. In practice every American administration has always stood up to Russia. We're not suggesting you shouldn't talk to Russia but what you can't do is treat Russia as business as usual, as any kind of equal partner." According to this brave man, Britain is not afraid to be left in isolation as it continues its policy of confrontation with Russia, adding that the recent decision on deploying 150 British servicemen in Poland was part of a plan to respond to Russia's attempt to test NATO. "We have to make clear that NATO is a defensive alliance but equally it is prepared to come to the defence of those members who feel very vulnerable particularly on the eastern flank, countries like the three Baltic states and Poland in particular." I know how I'm going to refer to Poland and the Baltic states from now on – vulnerable NATO members. Mr Fallon, thank you for that. You made my life much easier because now I can stop looking for the right word.
Now, let's look at each remark separately. In general, it is totally unclear why the officials of Western states believe they can interfere with the internal affairs of not so vulnerable NATO members, but rather a fairly normal member of this organisation, such as the United States. First, look at the sheer number of statements made prior to the election of the US President. French President Hollande and German officials were openly supporting one candidate. It's not that they went as far as making inappropriate remarks about the other candidate, but they did their best to humiliate him. Importantly, they did so not for political reasons but on a personal level, taking the low road to hurt his feelings. Why is this happening? We are talking about the internal affairs of a perfectly normal, invulnerable NATO member. Are you going to also defend Washington?
As for the next point about not treating Russia as an equal, Mr Fallon, many have tried, but none have succeeded. There's no point in dragging the United Kingdom into another experiment which will surely fail.
I really liked it when Mr Fallon said that Britain is not afraid to be left in isolation. We have some practical advice we can share with you, do not hesitate to ask.
What are we to make of all this? Of course, it's about creating an image of an enemy. This is another attempt, basically doomed, because no one can make it happen, even if you want the people in your country to develop a Russophobic frame of mind. I won't say much on this.
Former US Ambassador to the USSR Jack Matlock comments on the need to cooperate with Russia

I took notice of a publication in The Chronicle, which quotes comments on Russia-US relations by former US Ambassador to the USSR Jack Matlock. In my view, his most interesting statement is that since 1991, the United States was the first to violate international law with its involvement in the 1999 North Atlantic Treaty Organization bombing of Yugoslavia over Kosovo without United Nations approval. Mr Michael Fallon, incidentally, also said that Russia was an aggressive enemy and that it was necessary to defend those who were vulnerable, because it was violating international law. These materials could be compared in this indirect polemics. Mr Matlock says it was not Russia that violated international law but the United States as "we are setting precedents that come back to haunt us." He also noted: "If you want to talk about it, aggression and violation of international law, nothing Russia has done approaches the seriousness of the American invasion of Iraq." How do you like that, Mr Fallon?
As for Ukraine, Mr Matlock believes that the US is getting into a fight where it does not belong, making the situation more difficult. According to him, "for several centuries of history, it had no relevance to American national security whether Ukraine was in Russia or some other place." But now for some reason this has been a priority issue in the United States for some time and allegedly well-nigh a threat to national security.
Mr Matlock commented on tensions in Russian-US relations by saying that "the genie we thought we put in a pretty tight bottle in 1991 is beginning to grow again." It is in both nations' interests to avoid conflict, as nuclear war could lead to the destruction of both nations and potentially humanity as a whole. Our shared national interests, he added, include dealing with health issues, environmental issues and terrorism. I am telling you this to illustrate the variety of opinions.
Answers to media questions:
Question: Can you comment on Turkish President Recep Tayyip Erdogan's words on the Turkish army entering Syria to end the rule of Bashar al-Assad? And what do you think about Ukraine's plan to hold missile exercises near Crimea on December 1 and 2?
Maria Zakharova: In light of the efforts to settle the Syrian crisis and bilateral relations with Turkey, we have been acting in accordance with our official agreements and arrangements with the Turkish authorities. I am referring to official documents and official agreements, which we regard as fundamental in the context of the Syrian settlement and bilateral relations with Turkey.
I would like to say that we considered this issue yesterday, because the quote you mentioned has caused quite a stir, and it is obvious why. As far as we know, it is not a direct quote but President Erdogan was reported to have said this. Therefore, we are proceeding from the statements which the Turkish authorities, including the President of Turkey, have made publicly and which constitute the basis of agreements with Turkey. I would like to remind you that this concerns not only bilateral agreements signed following talks, but also the documents of the ISSG, where Turkey is a member. These documents say clearly that there is no alternative to a peaceful settlement of the Syrian crisis. There is no military solution to the situation in Syria, as ISSG documents and the binding UN Security Council resolutions say.
I would like to say that we are firmly committed to our stance regarding the Syrian settlement, which we have proclaimed and are maintaining. Our position is based on UN Security Council resolutions, ISSG documents and our bilateral agreements that are in keeping with the above international legal documents. As I said, we proceed from agreements and commitments, not quotations, which could be misinterpreted or cited out of context.
As for Ukraine's missile exercises, we regard it as yet another large-scale Ukrainian provocation designed to escalate the conflict between Ukraine and Russia. Kiev tries to keep this issue on the front burner, and its latest decision is an open provocation aimed at provoking Russia into taking a harsh stand.
It cannot be ruled out that Kiev wants the United States to remain its main sponsor after Donald Trump's victory. Provocations are a means of achieving this goal. Unfortunately, it is a classical method used by those countries and politicians who place their personal interests and ambitions above the interests and lives of their people. It appears that keeping this sponsorship is a big challenge for the Kiev authorities, who were uncivilised and rude towards President-elect Donald Trump when he was a presidential candidate. You probably remember that Ukrainian officials and diplomatic representatives abroad did not express their views or political assessments but openly insulted the person whom the American people elected their president. You may remember that they later tried to delete these statements from their social networks accounts and their sites, saying that they had been wrong and had rushed to conclusions. This is a separate story, though. The question is that people who cannot be expected to answer for what they write on their social networks accounts are members of the Ukrainian government. I can continue to recite the Ukrainian authorities' attacks on this particular presidential candidate, but the list is too long.
Moreover, Ukraine seriously complicated the work of Trump's election campaign headquarters by planting information according to which Paul Manafort, Trump's campaign chairman, allegedly accepted money from Ukrainian oligarchs. All of you have heard this remarkable story. The Ukrainian authorities' attempt to play the victim is an old trick, which usually brings good dividends. It worked for years, and they decided to use it again. It appears that they have decided to stage this provocation so as to yet again present Ukraine as a victim that should be pitied, including by the new US establishment, and to which sponsor assistance should be continued, including from the United States. Of course, Kiev needs this new complication to draw public attention away from the growing political, economic and social crisis in the country. I would like you to take note of the comment which the Federal Air Transport Agency (Rosaviatsiya) made yesterday. I suggest that you take your lead from it.
Question: Last week the United States said it would send a hundred trucks with humanitarian aid to Aleppo. Today we see that they do not want to send any aid after the liberation of the northern part of the city. Can you explain their position?
Maria Zakharova: Happily, they have their own press services, which will be able to answer your question. I have no information on US trucks with humanitarian aid. I can only report on Russian trucks with Russian humanitarian aid. You should address your questions about US assistance to our American partners.
Question: These trucks should have been sent to other addressees, to the people.
Maria Zakharova: I have just mentioned the strange logic, when many statements do not correspond to actions on the ground. Washington has said many times that terrorism is bad and they will separate the "bad" terrorists from the "good" opposition, but it has not lived up to its word. The separation epic has lasted for nearly a year, but things have not moved an inch. The presidential election is over, and the White House has issued instructions to seize, kill or isolate Jabhat al-Nusra leaders. But the separation has not been completed. This is what we see. First they say that the situation in Syria must be settled, and then they say they will not cooperate with Russia. They say that Russia is an important partner and a key player in the region, and that only Russia can solve the problem. Each US agency has its own version and repeats it several times over. What can we do about this?