Excerpts from the Briefing by Foreign Ministry Spokesperson Maria Zakharova
November 24, 2016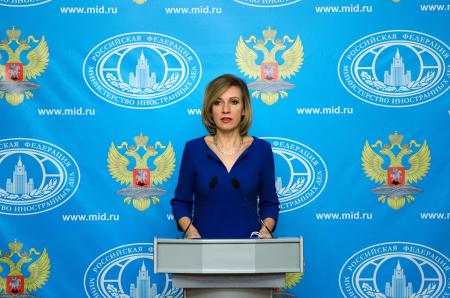 Developments in Syria

We are watching with concern the developments in Syria, where terrorists from ISIS and Jabhat Fateh al-Sham (former Jabhat al-Nusra) continue their daily missile and mortar attacks on towns. On November 19, several mines launched from the positions of the illegal armed groups hit the old part of Damascus resulting in civilian casualties. Two mines exploded near the Russian Embassy buildings. On November 21, four more mines exploded at the Russian Embassy in Damascus. On November 20, terrorists shelled a school and hospital in the Shahba neighbourhood and a primary school in the Furqan area of Aleppo. At least 10 people have been killed, eight of them children. The same day, at least two people were killed in a mortar attack at Harasta, the northeastern suburb of Damascus in Eastern Ghouta.
Meanwhile, the Syrian Armed Forces continued their successful offensive towards Aleppo. Fierce fighting is ongoing in the Bustan al-Basha district. The terrorists have failed to stop the advance of the Syrian army.
People in Eastern Aleppo continue their protests against the illegal armed groups. According to local residents, the terrorists have usurped the distribution of bottled water and foodstuffs and open fire at protesters to prevent them from entering the corridors that have been marked by the Syrian authorities for leaving the blocked neighbourhoods. Dozens of civilians have been killed or wounded. On November 20 and 22, officers from the Russian Reconciliation Centre, representatives of the Russian Humanitarian Mission, Syrian military intelligence officers and Syrian Christian militia held successful local operations to evacuate 20 civilians from Eastern Aleppo.
The Syrian government is actively promoting the practice of brief local truces near Damascus. It has announced the completion of the final stage of settlement in the Damascus suburb of Maadamiya. The Syrian national flag has been raised over the town, where the official authorities have resumed operation.
We again point to the biased and unprofessional reports on the developments in Syria made by representatives of the US State Department. They continue to make public statements on the responsibility of Damascus and Moscow for the Syrian casualties, using what they regard as airtight arguments, while in fact they infer that although the factual aspect of the developments is unclear, the responsibility nevertheless rests with Russians or Syrians. At the same time, Washington refuses to see the crimes committed by terrorists and allied extremist groups in Syria and continue to crudely violate the sovereignty of the Syrian Arab Republic.
I would like to tell you about one of such accusations. As you know, on Monday US Permanent Representative to the UN Samantha Power read out the names of Syrian officers alleged to have committed war crimes in Syria. Ms Power read out 13 names at a meeting of the UN Security Council on the humanitarian situation in Syria. The Russian delegation immediately provided its views on the matter. According to Samantha Power, "The United States will not let those who have commanded units involved in these actions hide anonymously behind the facade of the Assad regime. [They] must know that we and the international community are watching their actions, documenting their abuses, and one day, they will be held accountable." She also mentioned former Serbian President Slobodan Milosevic, probably to show the fate that lies in store for the Syrian officers she had named.
In this regard, let me remind you: all reports of attacks against civilian targets in Syria that were allegedly documented by the US turned out to be fake. The US has never been held accountable for its words, all it does is profess accusations lacking any evidence. All we are hearing is "all the materials are available on social media," "witnesses told us that," and "you know this all too well." This is what they usually answer. Let me remind you how a Russia Today journalist asked a representative of the US State Department to specify the civilian targets he referred to when speaking about destruction caused by the Russian Federation and the Syrian regime. Do you remember what followed? It was pure hysteria ending with accusations of propaganda. But what does it have to do with propaganda? The US never provides exact geolocation data, dates or location of the targets that, as they believe, were destroyed by the Syrian Army with support from Russian Aerospace Forces. These are mere words and hollow accusations. The same goes for the alleged bombings of a humanitarian convoy in Aleppo, a school in Hass and a hospital in Aleppo. The words are always the same, and no facts are presented. This is outright propaganda: the message and the policy behind it remain the same and consist of making accusations without providing any evidence. When the US accuses someone of war crimes, it always backs these claims with some kind of reports without saying who said it and when or giving any facts. If the US wants to deal with war crimes and war criminals, we believe that it should look at its generals who caused tragedies, killings and the death of dozens, sometimes hundreds of people or even hundreds of thousands of people, from Yugoslavia to the Middle East. I think that in terms of international law it would not be very difficult to assess what the US has done in the Middle East. Why does Samantha Power fail to mention this? She could have convened a news conference in the US to raise these issues. At least she could start by counting civilian casualties in Iraq, since nobody knows how many people had died there. I'm not even speaking about the consequences of the Iraqi campaign, but at least they could have counted the number of casualties.
I think that few people across the world would contest that Slobodan Milosevic is a controversial figure. No one pretended that he was not controversial. But does Samantha Power know anything about the tribunal against Slobodan Milosevic? It seems that she understands so little in what she is doing, that she cites the tribunal against Slobodan Milosevic as an example of international justice. Isn't she aware of the fact that the proceedings initiated against Milosevic were never brought to an end? There is no ruling, no guilty verdict, nothing. The case ended with the passing of Slobodan Milosevic. Maybe she wanted to say that when anyone falls into disgrace in Washington's eyes, regardless of what they did, they will also die before justice is served? When you represent a country in the UN Security Council that has a mandate to adopt binding resolutions, you need to know the facts, to say the least. The whole world will be ridiculing Samantha Power after her statement regarding Slobodan Milosevic and his trial. Before speaking about the future of the world, and perorating in a categorical manner about the fate of the Syrian people, maybe Samantha Power could have the courage to tell the UN Security Council about Guantanamo's future? What have you been able to achieve during the eight years that you were in charge? Before we discuss Syria, Russia or recall Slobodan Milosevic, let's talk about Guantanamo. As you know, this goes for a number of countries, not just the US.
By the same token the Federal Government of Germany said that it was shocked by the strikes carried out by the Syrian government against Aleppo. Again, they accuse the Russian Federation and the Syrian regime. Specifically, they said that without the extensive military backing from Russia, Bashar al-Assad's regime would not have been able to wage war against its own population. This is what the government spokesperson, Steffen Seibert, said in Berlin on Monday. It is true that "without the extensive military backing from Russia," the progressive western society would by now be horrified by the atrocities committed by ISIS barbarians, who would have surely taken control over the whole Syrian territory and neighbouring countries, and more importantly, would have reached Europe. Instead of isolated terrorist attacks in France and elsewhere in Europe, fundamentalists would have unleashed a full-fledged war in the EU.
The United States, the United Kingdom and France block Russia's proposal to include Ahrar ash-Sham and Jaysh al-Islam on the UN sanctions list
In November, Russia re-submitted to the UNSC Sanctions Committee on ISIL/Al-Qaeda and Associated Individuals and Organisations (Committee 1267/1989/2253) a proposal to include Ahrar ash-Sham and Jaysh al-Islam terrorist groups operating in Syria in the UN sanctions list.
What do you think happened to this Russian initiative? Even though Russia provided all the information proving conclusively Ahrar ash-Sham and Jaysh al-Islam's links with Jabhat al-Nusra, which features prominently on the UN sanctions list (and this is the criterion for including anyone on that list), on November 21, the United States, Britain and France blocked this motion. I would like to remind those who are so particular about upholding human rights, fighting terrorism, xenophobia and all kinds of intolerance that Ahrar ash-Sham and Jaysh al-Islam have not been included on the UNSC terrorist list because of the stance adopted by the United States, the United Kingdom and France. It's just that you understand. If you look at the photos of these people, I'm not even talking about what they do, read their slogans, appeals and literature which they disseminate, you will be frightened. More than anything, you wouldn't want these people to touch your life in any way. But the United States, Britain and France did not deem it possible to protect you from these people.
Once again, these countries have demonstrated a commitment to selective and opportunistic approaches when qualifying the activities of individuals or organisations as terrorist. This is not a theory. We are not talking about some philosophical notion. This is something happening in real life.
This is another case of a self-serving double standards policy which causes our profound disappointment. It is also a case of manipulation in matters that affect the effectiveness of the UNSC anti-terrorist sanctions.
Clearly, permanent UN Security Council members, such as the United States, Britain and France, are pursuing certain political goals which run counter to the overall effort to combat the threat of terrorism, and call into question the sincerity of Washington, London and Paris' allegations regarding their commitment to the key objectives of the war on terror.
I have a question for the citizens of France - those who suffered themselves, or the loved ones of victims of terrorist attacks. Do you understand that your government is blocking the inclusion of terrorist organisations on the UN terrorist list? Ask them why are they doing so, and what's in it for them.
We believe that such an explicit protection by the current US administration and its allies of the criminals whom they have for many years supported (we are aware of it and have talked about it), is nothing short of complicity in international terrorism. We must clearly admit this to ourselves and stop lying. This terrorist "International" knows no boundaries or nationalities, and we must all counter it.
Developments in Mosul
There are no signs that the situation around the Iraqi city of Mosul, which was seized by ISIS militants some time ago, will be resolved in the near future.
Iraqi government forces, supported by the people's militia and Kurdish units, continued to retake ISIS-controlled territories in Ninawa (Nineveh) Governorate and liberated dozens of communities. Tal Afar airport west of Mosul was also seized. Iraqi law enforcement and security agencies claim that 1,700 extremists have been eliminated. At the same time, they are having trouble advancing in Mosul itself. Fighting still continues in the city's eastern districts on the left bank of the Tigris River.
Air strikes by the US-led coalition hit civilians hard. We receive regular reports on air strike casualties. Against this backdrop, analysts are increasingly noting that coalition members have underestimated the difficulty of the Mosul operation. As you know, the decision to conduct this operation was made hurriedly and was driven by pre-election considerations in line with a directive of the outgoing US administration. Of course, no one cared about humanitarian consequences at that time.
But the humanitarian situation around Mosul is deteriorating steadily. The UN estimates that up to 70,000 people have fled the city and its environs to date. As you understand, no one has submitted any plan or programme for safely relocating them and deciding their future. Many more people are eager to escape the Mosul hell. People are running out of food. The worst thing is their uncertain future. It would be appropriate to talk about an impending humanitarian disaster here.
But our Western partners remain out of touch with reality. This has now become their normal state, as is proved convincingly by reports of allegedly respected news channels, which continue circulating standard, glossed-over and highly edited stories. Of course, they mostly cover the situation in Aleppo. No one shares their real opinions of the situation in Mosul. One is dismayed to notice that Western television channels do not mention any of the so-called "voluntary assistants" from among civilian activists while covering the situation in Mosul, while their reports on Syria are full of such references.