Excerpts from the Briefing by Foreign Ministry Spokesperson Maria Zakharova
November 17, 2016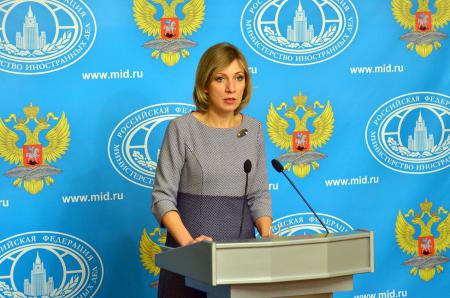 More disinformation from US State Department Spokesperson John Kirby
I have to open today's briefing on an unpleasant note. This is the first time we are encountering this in such a format.
Something outrageous happened yesterday at a briefing in the US State Department. Spokesman Kirby said "I'm not going to put Russia Today on the same level with the rest of ... independent media outlets." Is that some new type of segregation or media separation based on ideology?
I want to remind my colleagues in the State Department that there are US reporters officially working in Russia. I can see some of them in this room, and they come here regularly. Do you also want them to experience what you have allowed yourself with regard to a Russian media outlet working in the United States? I do not think that the American reporters will be happy to see such a turn of events. I can return the favour, trust me. If Russia Today ever has to go through the same thing again in Washington, US reporters will be assigned special seats at Russian Foreign Ministry briefings. Notably, not all American diplomats thought it was okay. In private, they expressed words of regret and apology to Russia Today. But they did so only in private.
This unprecedented case of separating journalists into "right" and "wrong" will certainly be discussed during the upcoming meeting between Minister Lavrov and Secretary Kerry today in Peru.
On the sidelines of the APEC summit, the heads of foreign policy departments will hold a bilateral meeting and discuss the situation in Syria and Ukraine, as well as the expansion of the American sanctions on Russia. The officials will discuss all current issues of Russia-US relations. The issue with which I began today's briefing will by all means be brought to attention of the US Secretary of State. We believe there must be a clear understanding of what the mouthpiece of the US State Department is officially saying, and he should be reined in a bit.
If this doesn't happen, again, we can return the favour.
Expansion of US sanctions
The Russian Foreign Ministry commented on November 14 on the decision by Washington to add six State Duma deputies from Crimea and Sevastopol to the anti-Russian sanctions list. This step cannot but cause regret. This issue will also, as I mentioned earlier, be brought up during bilateral talks.
What kind of regret do we have in mind? Is it regret over a White House that is totally detached from reality and the instinctive desire of the outgoing Obama administration to play a dirty trick on us before leaving? Truth be told, much has been done already, so there was no need to bother. One cannot rule out that this is not the last we see of this US administration. There are concerns that the White House will continue to spoil the atmosphere of bilateral relations up to the last day of the incumbent president in office.
Of course, we hope that destroyers and "terminators" of Russia-US relations in Washington will give way to people who will approach bilateral ties and cooperation more carefully in all aspects of the word.
You are aware that the attempts to pressure our country through sanctions, an attempt at isolating Russia from the world, all kinds of blockades and boycotts have failed and led to nothing. This is shown by our history and current developments. This, perhaps, sums up the Obama administration's failed foreign policy.
Answers to media questions:
Question: Could you comment on the promise of the US Congress, made by Senator Ben Cardin, to pass new comprehensive legislation in response to Russia's "bullying" in Ukraine and Syria, as well as during the US [presidential] election?
Why has Russia pulled out of the International Criminal Court?

Maria Zakharova: We have made extensive comments on the second question. They were posted in the form of a statement on the ministry's website. You can read it.
On the first question. There's a trick there. A few years ago, representatives of one Western media outlet asked why we always responded to John McCain and others. Of course, they are Senators and Representatives, but they play the Russophobia card and nobody in the US takes it seriously. Pay them no heed and everything will be all right. That was three years ago. Then it turned out that the Russophobia card was back in the game again, and not simply in the game, but has become a "joker" in the hands of many of those who pursued a policy toward Russia and focused US foreign policy on neutralising Russia. There is a certain measure of dualism in that. On the one hand, such statements are so absurd and ridiculous that it makes no sense to respond to them. They are outside reality and not backed by any facts. On the other hand, we understand very well that, at the present stage in the development of the media, if you fail to respond to accusations against you, unfortunately, you allow people and their positions to dominate, and you are excluded from the media space. This is the indisputable truth. Ben Cardin's remarks have nothing to do with reality. We have worked together with the US on Syria and we have been trying to work on Ukraine for several years now. We participate in international formats and have initiated much of what underlies them.
I have no idea how Russia influenced or could have influenced the US election. Many people are talking about this but no one can provide facts, quotes or arguments. In short, these are meaningless statements that are not backed by any facts. It is not clear why they are being made. Everyone probably needs to get reelected. The past election in the US should have shown Senators and Representatives that Russophobia is not on trend – not here and not there. This is what the US people said with their vote. When they say that Russia influenced the election, many of those who live in the US have no idea where Russia, Ukraine or Syria is. Some people know and some don't. Some people come from these countries and some have no idea whatsoever. I believe that US residents have already reached the point where they reject, they are allergic to Russophobia and they acted against this stream of hysteria so that these omens of World War III would fade into oblivion. To reiterate, these are meaningless statements not backed by any facts.
Question: Regarding the briefing at the US State Department with an unpleasant situation…
Maria Zakharova: It would say it was not an unpleasant but an absolutely outrageous situation. This incident goes beyond pleasant or unpleasant. Some things are unacceptable. One of them is when officials divide the media into different groups without any facts and disregarding the opinion of the professional community, but only based on these groups' ideological closeness to a country that declares its loyalty to media freedom and human rights. In my opinion, this is an extraordinary situation. This may result in news conferences where separate chairs and rooms will be assigned to those who are liked and those who are disliked, and the latter will attend a completely different briefing.
This is outrageous and completely unacceptable; this must not be allowed to happen again. Government officials have no right to divide the media according to the like-dislike principle, denouncing some media outlets as the adversary and issuing instructions to others who have been practicing self-censorship these past years. We must be aware of this.
There is probably no need to remind you, but if you have any complaints against a media outlet, you should provide facts and quote from and analyse the item in question. You can issue a refutation, say that this information is inappropriate and incorrect, or even a piece of propaganda. But accusing anyone without any facts, and telling a journalist who has asked a question that his or her media outlet is not respected and may not stand together with the rest is absolutely outrageous and must not be allowed to happen in the future again.
Question: After the briefing where this unacceptable situation occurred, our journalist received a list of hospitals that were allegedly bombed by Russia's Aerospace Forces, according to the United States. The US State Department is citing information of the World Health Organisation (WHO), which has published a list of hospitals that have been hit but has not made any conclusions as to who delivered the strikes. Is it acceptable to use the WHO information in this manner?
Maria Zakharova: The list was sent to you, and so I cannot say whether it is factually accurate or not. You have the list.
We have heard several stories, some of which we laid bare, about the strikes at civilian targets that were allegedly delivered by the Russian Aerospace Forces. There were altered images and video footage of geographic objects that had no connection to the ones in question and were not taken at the time in question. A great deal of false information has been planted, or just inaccurate information that was presented as a fact.
Conjecture in this area is unacceptable. But we have solid facts that these methods are being used.