Excerpts from the Briefing by Foreign Ministry Spokesperson Maria Zakharova
November 10, 2016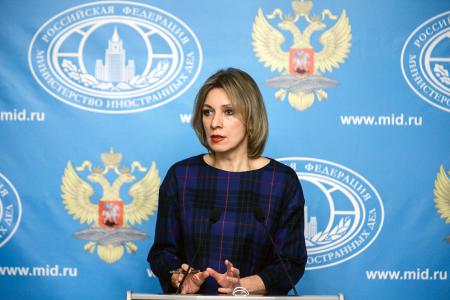 The situation around Mosul
The situation around Mosul remains extremely tense.
A large-scale operation by Iraqi security forces is in progress there with the use of heavy weapons and with support from Kurdish detachments and aviation of the US-led anti-ISIS coalition. Mopping-up operations are underway in areas leading to the city as well as near Mosul. Yesterday, Kurdish Peshmerga forces took control of an ISIS stronghold, the city of Bashiqa, 30 km northeast of Mosul.
ISIS forces are putting up fierce resistance, taking advantage of densely built-up urban areas and using local residents as a human shield.
In this connection, we note the continuing deterioration of the humanitarian situation around Mosul. According to the United Nations Assistance Mission for Iraq (UNAMI), about 34,000 people have fled the city and areas around it since the outbreak of hostilities. And their numbers continue to grow. People are fleeing not only ISIS atrocities but also the bombing by the US-led coalition. Reports of casualties resulting from its airstrikes are coming with disturbing regularity. It is pointless trying to deny, let alone hide these facts. However, our Western, primarily US partners are trying to ignore the consequences of such actions so that they do not mar the media narrative that they have been cultivating recently, focusing on Aleppo.
In this connection, it is important to take note of the statement made yesterday by the ICRC regional director for the Middle East, Robert Mardini, that the humanitarian crisis around Mosul is potentially more dangerous than the present situation in Aleppo while all parties to the Mosul confrontation should adhere to the basic rules of warfare. We would like to hope that the operation – which many regarded as a small victorious war, designed to provide grist for the mill of certain political forces in Washington ahead of well-known events – will, as aid agencies have noted, finally move into civilised boundaries for a counterterrorist operation.

US cyber threats against Russia
I would like to revisit the cyber threats that Washington has made against Russia. As is known, in October, US Vice President Joe Biden, not a retired politician but an incumbent state leader, in an interview with the NBC network, made unprecedented cyber threats against Russia. We would like to draw attention to a noteworthy fact that for some reason is unknown to Mr Biden (a great deal is unknown to people who were at the US helm recently). To reiterate, at their May meeting in Japan, the G7 leaders adopted a document with the so-called Principles and Actions on Cyber. One of its key points states that the club members "affirm that international law, including the United Nations Charter, is applicable in cyberspace." Therefore, "states may exercise their inherent right of individual or collective self-defence as recognized in Article 51 of the United Nations Charter and in accordance with international law, including international humanitarian law, in response to an armed attack through cyberspace."
Obviously, Mr Biden's odious remarks are deeply at odds with these "G7 principles," which were formulated with the active participation of, among others, the United States. This is a revealing comment on the professionalism of those now in the US administration.
NATO Secretary General Jens Stoltenberg's statement on a regular ambassadorial meeting of the Russia-NATO Council
We have taken note of NATO Secretary General Jens Stoltenberg's statement on the allies' readiness to hold an ambassadorial meeting of the Russia-NATO Council in the near future.
Consultations are underway in Brussels on the agenda for the upcoming meeting. For our part, we hope to continue a substantive discussion of issues that were on the agenda of the April and July meetings. The date of the meeting will be determined after its agenda is coordinated. We will keep you informed.
Answers to media questions:
Question: Does Russia feel optimistic or, perhaps, cautiously optimistic in connection with Donald Trump's election as US President? Will this lead to an improvement in Russian-American relations?

Maria Zakharova: The election per se was and is of immense importance for the United States itself. We are talking about a US president elected by the American people. As for an improvement in our bilateral relations and the foreign policy course, the team is just being put together. It will take some time. Next, by tradition, foreign policy priorities, aims and objectives should be announced.
Of course, we heard his pre-election statements. Many of them, as you have just said, indeed inspire optimism. But we should understand that improving bilateral relations (and in this case we are speaking not so much about improving relations as about leading them out of a deadlock) means an immense amount of work to be done by professionals. Of course, a dismissive and amateurish approach is out of the question here, because it is indeed a serious task that must be addressed. We are fully ready for this. Moreover, despite all the electioneering, before the vote and the declaration of the returns, we not just sent signals through our representatives or passed unofficial messages, we had a clear position ready, which consisted in that we were ready for cooperation and for developing normal relations and, most importantly, that we understood it was simply criminal to let this runaway train continue on its downhill plunge and watch it gain speed. I am referring not only to the ambitions of certain overseas politicians, who may have felt offended by something, although lacking any real reasons for that. The thing is that it is other people who fall hostage to these ambitions. You can see the slow-down in humanitarian projects (and "slow-down" is a mild word in this context). We see our Western colleagues pay a lot of attention to issues of culture and cultural cooperation. But was there any cultural cooperation in recent years? There were neither the prerequisites, nor the right atmosphere. Neither was there the relevant infrastructure, including legal guarantees. This is just one aspect out of many. I think that people are tired and want to "shed the old skin" of aggression and lies.

Question: Could you provide an update on the Russia-US agreement on Syria? Are any negotiations underway, maybe at the expert level, to start implementing the agreement or at least to find ways to move in this direction?
Maria Zakharova: Nobody has cancelled anything. As a matter of fact, a relationship is always work in progress, and this work has to be done. We are totally ready to move in this direction and reaffirm our commitment to all obligations we have assumed, be it in the UN Security Council, ISSG or over the course of bilateral contacts with the US on this issue.
Question: Are there any contacts planned for the near future between Secretary of State John Kerry and Foreign Minister Sergey Lavrov? They tend to speak over the telephone or meet quite frequently.
Maria Zakharova: Are you getting bored? Regarding the contacts, I'm sure you realise that it is not our fault that there are no more telephone conversations. It was the US who initiated them. It is true that over the last few days there were requests coming from the US Department of State to arrange a telephone conversation, but the Americans themselves backed out about three times. Our telephones are working properly.
Question: What is your perspective on the international response to the election of Donald Trump as president of the United States, including the rather restrained response from the German and French leaders?
Maria Zakharova: It is their business, although I do believe that maintaining dignity and calm is always very important. I think that the ability to act with dignity after the election depends on whether there was dignity before the election. I believe that these things are interrelated.