Excerpts from the Briefing by Foreign Ministry Spokesperson Maria Zakharova
September 15, 2016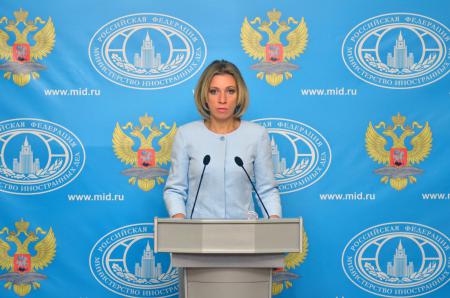 US statements on Russia's role in Syria ceasefire
We took note of the remarks from the White House with regard to Russia's role in observing the cessation of hostilities in Syria. For some reason, the Americans are skeptical about Russia's willingness to comply with the agreements. They regard the ceasefire as a test for Russia's reputation. This is a strange approach but on the other hand, perhaps it has a positive element because if reputation is at stake therefore it exists. In this case our US colleagues have something to envy. Before saying these kinds of things, think what [others] will think about you.
We regard such statements, made in a situation where Syria's years-long conflict has not been resolved yet and all international efforts are aimed at achieving a peaceful settlement, as illogical and counterproductive. This is why we are concerned and worried by the fact that despite the positive achievements that were reached in Geneva less than a week ago, we are hearing remarks of a completely different kind. We understand their nature but they do nothing to help the cause. It is necessary to work constructively. We have examples of this kind of work. When the United States wants to work, it can work. We act on the assumption that statements of this kind should be followed by responsible efforts to implement the agreements that have been reached.

Answers to media questions:
Question: What is the reason behind Russia's desire to disclose the details of Russian-US agreements [on Syria]?
Maria Zakharova: The agreements that have been reached in Geneva are comprised of a package of documents that were coordinated in the process of Russia-US talks, during long meetings between Foreign Minister Sergey Lavrov and US Secretary of State John Kerry. Since the very beginning of these talks, when coordinating these documents and after finally coming to terms, Russia proposed, or even urged its US partners, that the entire package of documents should be made public. We believe that this can and should be done to prevent any speculation.
You know that secret documents have been leaked to the media on many occasions, often not through Russia's fault but at the initiative of our US colleagues. Of course, we do not suspect or accuse anyone of planning to do this. But unfortunately, we encounter such leaks nearly every week. Moscow has proposed, and we reaffirm this proposal, that the document be made public to avoid any misinterpretation and to prevent the use of such leaks to influence or manipulate the parties to the conflict, who are not aware of the details of our agreements. We see no problem in this. We don't understand why these documents cannot be disclosed. The term agreement means that there are several parties involved. Since we reached these agreements with the United States, the decision on whether these agreements should be disclosed must be coordinated with it. This is what we think. No one ever had an occasion to question Russia's scrupulousness in this respect.

Question: What do you think about a situation where facts about US athletes using doping are made public but their diagnosis or the reasons for using banned substances are not disclosed?

Maria Zakharova: This is not the most shocking thing. This situation is for the experts. The shocking thing is that they are seriously saying it's unacceptable to publish personal information in the media, although the names and personal information of many of our outstanding athletes had been made public alongside information about other people who were proved to be doping and using banned substances. These athletes, who never were involved in doping, were discredited in the eyes of the global public and their colleagues. These are not just double standards but evidence of trying to win at all costs in this battle of isolation.
I would like to close this subject now, because it falls within the authority of those who deal with sport professionally, that is, sport officials, including international ones.
Question: Ahrar al-Sham, a group that is closely affiliated with Al Qaeda's branch in Syria, is openly flouting the ceasefire. Are any talks under way with the United States regarding the group's inclusion on the list of terrorist organisations? What is the outlook for the creation of a joint centre with the US after seven days of the ceasefire? Are you optimistic about this?
Maria Zakharova: We are not simply optimistic. We are looking at the specific documents that the Russian delegation has been looking at for months and proposing corresponding amendments. Today we are looking at these documents as such – not at political declarations, not at statements of intent, but at the documents that Moscow and Washington have signed. Their implementation is our direct responsibility. Furthermore, all explanations were given as soon as the agreements were reached. In this context, it is necessary not to take an optimistic view, but to look at it as a document that needs to be implemented, since so much effort has been put into it and compromises were reached.
As for Ahrar al-Sham, our position on this organisation and generally on the issue of separating terrorists from the moderate opposition is well known. This position does not coincide with the US position on some points. To us, this is the main issue. In this sense, our position is clear and unequivocal.
Question: On September 13, US President Barack Obama, at the Democratic Party convention in Philadelphia, said it is now time "to pass the baton," meaning, of course, to US presidential candidate Hillary Clinton. "I know that Hillary is going to take it and she's going to run that race, and she will finish that race," he said, hinting at the state of her health. Could you comment on this?
Maria Zakharova: I have a question. Did President Obama watch the Olympic Games at all? Such remarks are pretty dicey. To reiterate, we have a principled position of not commenting on the course of the election campaign in the United States. However, regarding this statement, the most important thing is that the baton does not fall and that no decision has to be made to start a new race. As for the statements that we are now hearing from Washington, they are reminiscent of "demob-happy" rhetoric. It is important to see this through to the end. There is not so much more to go.
Question: Media reports say the United States has sent China its proposals on sanctions and a UN resolution. Has Russia received this document and will it join additional sanctions against North Korea and to what extent?
Maria Zakharova: As I said, at least as of yesterday evening, no one country had circulated a corresponding draft document at the UN Security Council. As soon as a draft or some proposals on a future document are submitted we will be able to discuss them in a substantive way.
Question: Recently, US State Department Spokesman John Kirby told reporters that the United States hopes North Korea's naval drills will not escalate tensions in the region. Could you comment on the ongoing drills?
Maria Zakharova: We would like to say that stability, openness and transparency are very important in this regional issue. We act on the premise that all ongoing activities there now should be balanced and carefully thought out and not increase instability but, on the contrary, strengthen stability and mutual understanding and serve as a solid foundation – indeed the only possible one – for the resolution of conflicts, among other things.