Excerpts from the Briefing by Foreign Ministry Spokesperson Maria Zakharova
May 6, 2016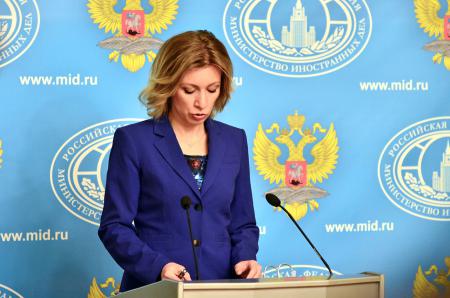 Foreign Minister Sergey Lavrov's meeting with the Cuban Five
On May 10, Foreign Minister Sergey Lavrov will meet with members of the Cuban group of five heroes/antiterrorists. In their time, these people worked undercover as part of Cuban political émigré organisations to prevent terrorist attacks planned against the Republic of Cuba. For that, the US authorities accused them of anti-American intelligence activity and sentenced them to long prison terms.
A broad international campaign was launched in support of the group of five, who were proclaimed national heroes in Cuba. Russia was also actively involved in it. We campaigned for their release both on the political and parliamentary level, and during our contacts with Washington, constantly pointed to the use of double standards, in particular on human rights and the fight against international terrorism, in the case of the Cuban anti-terrorists, people who were subsequently declared heroes in Cuba. As a result of consolidated efforts and international public pressure, the Cuban Five were released.
To many people, the Cuban heroes became a symbol of the struggle for the country's sovereignty, its vital interests and the preservation of national identity, and the right to pursue its own model of development. As a token of appreciation for the support provided by the international community, the Cubans visit different countries and are received at the highest political level.
The Cubans will be in Russia on May 8-13 at the invitation of the State Duma leadership. They will attend official events to mark the 71st anniversary of the Victory over Nazism.
This is perhaps another graphic example of our relations with Cuba – relations of a genuinely allied, non-opportunistic nature. For our part, we welcome the normalisation of relations between Cuba and the United States. We will continue to advocate for the early lifting of the trade, economic and financial embargo on that state.

The situation in Aleppo, Syria
Unfortunately, the attention of a number of media outlets, which we believe have an agenda on this issue, has been drawn to the escalation of violence in Aleppo, Syria. It seems to us that their position is far from disinterested because these stories are focused around traditional accusations, based on rather dubious sources, against the Syrian government, whose aggressive steps purportedly jeopardise the ceasefire regime and impede progress on the intra-Syrian track in Geneva.
The situation in Aleppo was discussed at a UN Security Council meeting on May 4 on British and French initiative. On the same day, at Qatar's request, the issue was submitted to an emergency session of the Arab League in Cairo.
Let's consider what is going on in Aleppo. Indeed, the situation is dramatic. Except that the main cause of the current escalation is not the actions of government forces, as [these media] are trying to have us believe – in fact, simply to impose this vision on us. In reality, the cause is the provocations by terrorists, who are doing all they can to disrupt the ceasefire established on February 27 in Syria in keeping with the Russia-US joint statement of February 22, 2016.
Specifically, the situation is as follows. Taking cover behind the backs of a number of armed opposition groups and sometimes forming tactical alliances with them, Jabhat al-Nusra is trying to compensate its earlier losses with an inflow of new militants and arms across the Turkey-Syria border. After receiving reinforcements on May 1-3, terrorists attacked Syrian army and militia positions. At the same time, jihadists subjected Aleppo's residential neighbourhoods to massive mortar and rocket attacks.
I would like to cite concrete facts. The neighbourhoods of Sheikh Maqsood, Meidan and al-Suryan came under attack with home-made multiple rocket launch systems, known as Hellfire. These weapon systems are comprised of gas cylinders packed with scrap metal pieces and explosives, have indiscriminate effects and are aimed at killing and intimidating civilians. Such methods are used by terrorists and those who are still referred to as the "moderate" opposition, which is present covertly or overtly in terrorist organisations.
Terrorists fired rockets on the al-Dabbit maternity hospital in the Muhafaza neighbourhood, killing 17 people, including pregnant women and children, and injuring 68 civilians. Another six people were killed and dozens injured near al-Neel Street, as well as in the neighbourhoods of al-Sarian, al-Khalidyia, al-Mocambo, al-Sabil and around the Ramzan mosque by fragments of shells fired by the militants.
In the morning of May 4, terrorists fired rockets and mortars on Salah al-Din and al-Khalidiyiah. Three members of a local family were confirmed dead.
Russia, in coordination with the United States, another co-chair of the ISSG, is doing all it can to ensure the "silence regime" in Aleppo, which has proven effective recently in northern Latakia and eastern Ghouta. The problem, however, is that our US partners are not yet in a position to force the Syrian opposition groups they support to dissociate themselves from Jabhat al-Nusra, whose terrorists are taking advantage of these organisations and their members for their bloody provocations. For its part, Moscow is standing firm on the need for an uncompromising fight against terrorists and those who together with them are violating the ceasefire, in particular, such notorious extremist armed formations as Ahrar al-Sham and Jaish al-Islam.
We reiterate our call on all international and regional forces that have influence over armed groups in Syria to use their influence for a good cause and urge their protégés to decisively dissociate themselves from ISIS and Jabhat al-Nusra terrorists. It is critical to strictly observe the ceasefire.
Retired judge's comments on the Viktor Bout sentence
The New York Times has published an interview with Shira A. Scheindlin, retired United States District Judge for the Southern District of New York, concerning the 2012 sentence in the case of Russian national Viktor Bout, who is serving a 25-year prison term in the United States. We have naturally taken note of her remarkable statement.
No longer restricted by her office, the recently retired Judge Scheindlin described his sentence as "excessive and inappropriate". This statement was made by a person who for a long time had full access to the Bout file, not by a blogger, self-styled expert or journalist – with all due respect for the latter profession. She worked with relevant documents and was at home with related problems. I reiterate, the retired judge said the sentence was "excessive and inappropriate". She does not think Bout was a terrorist, as the prosecutors qualified him and tried to convince the jury. The Russian national had been lured into a trap in an elaborate US government sting operation in Bangkok, where he was arrested in 2008.
Post factum statements have become a custom in the United States. The truth does not come out when it is vitally important and eagerly anticipated but after decisions are made and lives are destroyed – sometimes millions of lives. The truth comes out when it is too late.
The revelation confirms our assessment of the Bout case as a political frame-up of a Russian national. The judge's confession shows the workings of a judicial machine we have regarded as exemplary and looked up to for years. Now, we see its reverse side, and it poses big questions.
We will make insistent demands as before on the US authorities for Viktor Bout's early return to Russia and we will fully support his lawyers for the unjust verdict to be revoked. No one doubts it any longer.
US pressure on Bern
There is another issue related to the United States. I cannot but mention the piece by Switzerland's Le Matin Dimanche, which said that US authorities put pressure on Switzerland to talk their business people out of attending the St Petersburg International Economic Forum. As you know, the preparations for the forum have already started and are actively underway. Various Russian and foreign participants of the forum are announcing their plans to attend the event, and discuss and negotiate some contracts. And now here is the article.
According to the newspaper, in early April an unnamed diplomat from the US Embassy in Bern met with a representative of the State Secretariat for Economic Affairs of Switzerland's Federal Department of Economic Affairs, Education and Research. The meeting was aimed at informing Bern that, "like in the previous years", the United States "expects" that Switzerland will talk their business people out of taking part in the St Petersburg International Economic Forum. The sources from the newspaper claim that the US diplomat emphasised the need to refuse to do business with Russia. The article said that the Swiss Foreign Ministry confirmed the topic of the meeting that took place – in particular, it said that "the Federal Department of Foreign Affairs can confirm the topic of the US Embassy's remarks and took notice of them."
How can all these games be described? With today's means of communications, such things cannot be concealed. They will come to light anyway. This all is taking place amid consistent statements and reports, including those by the US Department of State, on human rights violations in various countries, the inadmissibility of pressure on businesses and biased judicial decisions, and so on. Yet, as we can see, pressuring a sovereign country into taking decisions in order to put pressure on businesses seems to be the norm for Washington. This is an attempt at putting pressuring not only on foreign businesses but overall on all external relations of an independent state. We are talking about a neutral country here. Now imagine in what vein Washington speaks to the countries that are, say, NATO members and are under the United States' total control. I am not sure they speak with them at all – probably, by silently sending some recommendations saying they will regret it if they do it some other way. This is probably how the dialogue is conducted.

Question: The Aleppo ceasefire ends today. Is anything being done to prolong it? How do you assess the Russian-US cooperation in this area?
Answer: Russian Foreign Minister Sergey Lavrov gave a very detailed answer to this question in an interview with Rossiya Segodnya news agency, elaborating on the ceasefire issues, on what is being done to preserve it, and on the Russian-US cooperation. I can only repeat that we are aware that the cooperation could be more active, and correspondingly, more effective. We are satisfied that this cooperation has definitely entered a new level after the joint centre for rapid response to ceasefire violations in Syria opened in Geneva under the UN aegis. This should be noted and welcomed. It disavows the attempts by some of our western colleagues to distance themselves from such cooperation by claiming that there is no interaction between the military agencies. There is interaction, and this is very good since it is a foundation for ensuring that the peace process in Syria acquires a more fixed structure. We share information, including information on terrorist attacks and strikes against terrorists, and we have an opportunity to engage in direct dialogue. You can get more information on this issue from the Defence Ministry. Let me repeat that cooperation and interaction are ongoing and are sustained by the military and by diplomats.
I am not even going to speak about the number of telephone conversations between Sergey Lavrov and John Kerry: we are heading for a record.
Question: This year alone, Foreign Minister Sergey Lavrov and US Secretary of State John Kerry have had 25 telephone conversations. What is this intensity related to?
Answer: The answer here is obvious. The international relations agenda has global issues which, as we all can see now, can only be resolved exclusively with Russia's participation. Despite anyone's feelings of exclusivity or the global span of self-awareness, they cannot be resolved by one actor. Such issues include Syria and the overall situation in the region, international terrorism – practically all global problems our leaders are discussing.
I cannot say why we have so many calls specifically from US Secretary of State John Kerry (the number you stated is accurate).
Since today is Friday, let me make a lyrical digression. Robert Burns wrote a wonderful poem "My Heart's in the Highlands", which many Russians know. I am not sure if it is as well known abroad. Taking into account that the question came from Russia Today TV Channel, I would dare to answer it in English, somewhat altering the famous piece of poetry:
His heart is in Moscow, his heart is not there,
His heart is in Moscow, a-chasing a bear.
A-chasing not grizzly, but Kremlinese;
His heart is in Moscow, wherever John is.
And in Russian it goes something like this:
В Москве его сердце
Отныне и впредь.
В Москве его сердце,
Где русский медведь.
Не гризли он грезит –
А в Кремль ведом.
В Москве Джона сердце,
Неважно, где дом.