Excerpts from the Briefing by Deputy Director of the Information and Press Department Artyom Kozhin
July 20, 2017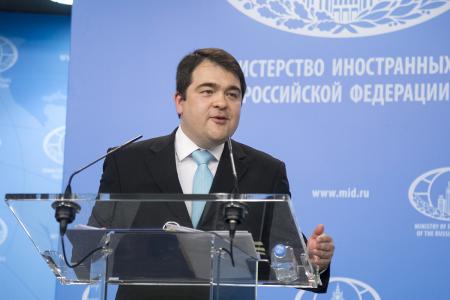 Viktor Bout
We are verifying the news recently reported by the media that Russian citizen Viktor Bout convicted in the United States had his sentence extended by several weeks for violating prison rules. We have already filed a request with the US officials to provide clarifications.
We are closely following the fate of our compatriot given the gross arbitrariness which has characterised, from day one when he was secretly arrested in Bangkok in 2008, the actions of the US special services, and the investigative and judicial bodies against him. They handed down a tough and unfair sentence of 25 years in prison, turned down all the appeals, kept him in solitary confinement for many years, and used other cruelties with regard to Mr Bout in order to exert psychological pressure on him and to break his spirit. As we can see, such attempts continue unabated.
In our contacts with Washington, we repeatedly stressed that it is unacceptable to abduct Russian citizens in third countries, Viktor Bout being a case in point. However, the Americans still refuse to release our abducted fellow citizens, and turned this practice into another tool to exert pressure on Russia. Similarly, the US authorities are taking it out on Konstantin Yaroshenko for his refusal to falsely admit guilt.
Despite the biased attitude towards Russia, which has long been typical of many in the United States, and has now become a genuine Russophobic hysteria, we continue to seek the release of all our citizens convicted there on fabricated and politicised charges.
Russian citizen Stanislav Lisov detained in Barcelona at the request of the United States
Russian citizen Stanislav Lisov, detained in Barcelona on January 13 at the request of the United States in connection with the alleged use of malware to break into a US banking institution, remains in custody in a penitentiary institution in Spain. The Russian Embassy in Madrid is in contact with the detainee and his lawyer. Our diplomats are taking all necessary steps to protect the legitimate rights and interests of the Russian citizen. In particular, the necessary consular assistance is being provided.
The extradition hearing will take place on July 20.
The embassy employees are closely cooperating with the Spanish authorities.
Answers to media questions:
Question: Russian-US talks at foreign ministry-level ended just the other day. Can you tell us about their main results? Will Russia get its diplomatic property back? What decision has been taken concerning this subject?
Artyom Kozhin: As I see it, you are referring to the talks between Deputy Foreign Minister Sergey Ryabkov and US Under Secretary of State for Political Affairs Thomas Shannon. First of all, numerous comments have already been made on this matter, including by Foreign Minister Sergey Lavrov. Sergey Ryabkov took part in a television show only yesterday, where he covered this particular issue in great detail.
I also suggest that you read one of the comments that has been posted on the Foreign Ministry website. Overall, the key conclusion is that although there is not much to be proud about right now, we will continue working on this. We will also continue negotiating. I would like to stress that we have requested the unconditional return of our property in the United States. We have said this more than once, and I would like to use this occasion to say this once again.
Question: Have any conditions been made to Russia for the return of this property?
Artyom Kozhin: Once again, please, read the comment on the Foreign Ministry website.
Question: Unlike the comments made by our American colleagues, the official Foreign Ministry comment on the talks between Mr Ryabkov and Mr Shannon does not mention the topic of strategic arms reduction talks. What plans do Russia and the United States have on this matter?
Artyom Kozhin: Sergey Ryabkov and Thomas Shannon discussed some current strategic stability issues. As for the rest, please read the Foreign Ministry's comment.
Question: But the comment made does not mention this, which is why we are asking you for this particular information.
Artyom Kozhin: If you read the comment carefully, you will really see that they did discuss a number of current issues related to strategic stability.
Question: What does Moscow think about the decision made by the Trump administration to end the programme to provide arms to the Syrian opposition? Can you describe this as a positive result of the recent Putin-Trump meeting in Hamburg? Has it brought any major results on the subject of the Syrian crisis?
Artyom Kozhin: We will provide our reaction to this a little bit later. Today I can say that we welcome any steps that are aimed at easing the tension and strengthening security in the Middle East.
Question: Are you considering expelling 35 US diplomats as a response measure to the expulsion of Russian diplomats from the United States? What is the probability of this?
Artyom Kozhin: Many comments have been made on this issue. We retain the right for reciprocal action. We are monitoring this issue.