Excerpts from the answers to media questions at a joint news conference following talks with Secretary of Foreign Affairs of the Philippines Perfecto Rivas Yasay
December 5, 2016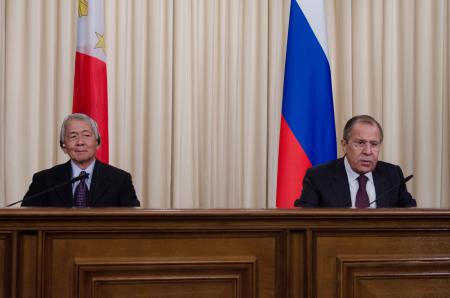 Question: Today, the UN Security Council will review a draft resolution on Aleppo, which involves a minimum seven-day ceasefire to be complied with by all the parties, as well as some other issues. Will Russia support it?
Sergey Lavrov: I'll begin by addressing a somewhat different event. As we announced last Saturday, December 3, Russian and US experts will start working in Geneva on the eastern Aleppo conflict as proposed by the United States. Their goal is to ensure complete withdrawal of all militants from the eastern part of that city, which, as you may be aware, Russia has been advocating for a long time now. The plan developed by UN Secretary General's Special Envoy Staffan de Mistura focused on the same issue as well. The participants of Russia-US consultations will agree upon specific routes and dates for the militants to leave eastern Aleppo. As soon as these routes and deadlines are agreed upon, a ceasefire will enter into force in order to evacuate these armed units. If Russia-US cooperation on these matters sticks – and we have every reason to believe that it will – then the eastern Aleppo conflict will be effectively resolved. The city will be liberated from extremists and other militants. The civilians will be safe, the uninterrupted delivery of humanitarian aid will be restored, and the situation there will normalise.
Getting back to the project that you asked about, I believe that, given the circumstances, putting it to a vote would be counterproductive, as it would run counter to the approaches that are now being harmonised between Moscow and Washington as ISSG co-chairs. Let me explain what the issue is all about. This draft is not about the militants' withdrawal, but about an immediate ceasefire. It doesn't include any demands for the insurgents in eastern Aleppo whatsoever. They are given 10 days (which is a lot) to decide whether they are willing to become part of the ceasefire or not. Based on previous pauses in the hostilities, we have no doubt that a 10-day break of this kind, which the proponents of the draft resolution would be so willing to provide to the rebels, would be used to regroup and replenish their ranks, and would thus hamper efforts to free eastern Aleppo from them, only prolonging the suffering of the people. So, taking into account all aspects and current developments, the above draft resolution, against the background of the Russia-US initiative, is largely a provocative step that undermines Russia-US efforts. If those who are more concerned about keeping the militants in Aleppo, rather than reaching an agreement on withdrawing them from there, still decide to put this draft to a vote, we will proceed from the position outlined above.
Question: Armed opposition groups in Syria told Washington they will not leave the neighbourhoods of eastern Aleppo. What does Moscow think about this given that the territories controlled by the militants in that city continue to shrink and that there's a possibility of new rounds of talks on resolving the Syria issue between the United States and Moscow, as well as between Moscow and the militants with the mediation of Ankara and without Washington? Could you share with us some details of the proposal on Syria, which US Secretary of State John Kerry gave to you in Rome?
Sergey Lavrov: I have just mentioned this proposal. It concerns agreeing on specific routes and timing of withdrawal from eastern Aleppo of all militants without exception. Therefore, those armed groups that you mentioned at the beginning, who refuse to leave eastern Aleppo, will be treated as terrorists. Not wanting to leave eastern Aleppo, they will continue the armed struggle instead. We will treat them as terrorists and extremists, and support the Syrian army in its fight against bandit groups of this kind.
Let me reiterate. We believe that when the Americans put forward their initiative for all the militants are to leave eastern Aleppo, they realised what steps it would require from them and their allies who have influence over the militants in eastern Aleppo. We were ready to meet in Geneva already today, but the Americans asked for a 24- to 36-hour delay in our consultations. Most likely, they will start tomorrow night or on Wednesday morning. I hope that the additional time that Washington asked for will be used to activate all channels in order to remove all the militants from eastern Aleppo. This includes means of dissuading armed groups from staying in eastern of Aleppo, as it is not in their best interest. I hope that the Americans and their allies have such means.