Excerpts from the answers to media questions at a joint news conference following talks with First Deputy Prime Minister and Minister of Foreign Affairs of the Republic of Serbia Ivica Dacic
December 12, 2016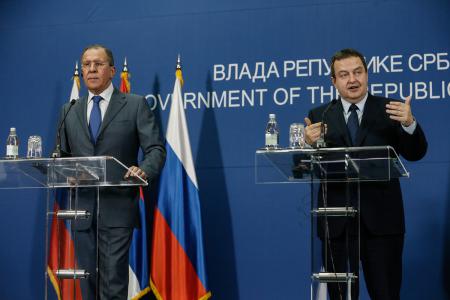 Question: Today you have received a sabre intended as a gift to the family of fallen Russian pilot Oleg Peshkov. The Syrian issue is present in almost all your meetings in one way or another. What can you say about ISIS fighters entering Palmyra once again, especially as the US lifts restrictions on arms deliveries to the people it calls its Syrian allies? What is the current state of Russia-US consultations in Geneva? Can we expect a new agreement of any kind?
Sergey Lavrov: We regularly point our US colleagues to this ambiguous, if not intentionally duplicitous, counter-terrorism policy. This ambiguity emerged a long time ago, back when the US created a coalition to fight ISIS. The way they decided to fight terrorism was quite strange: on an occasional basis, with operational flights often ending without strikes against terrorists. Only when the Russian Federation, at the request of the legitimate Syrian Government, sent its Aerospace Forces to combat terrorism, the US-led coalition woke up and became more or less active in its efforts to fight ISIS.
All this time and up to the present, another terrorist organisation designated and sanctioned by the UN, the US, Russia and the EU, Jabhat al-Nusra, which has since changed its name, has never been targeted by the US-led coalition. There are many examples that we raised with the US on numerous occasions over the last twelve months that we have been working to come up with a common approach. These examples speak to the fact that, intentionally or not, Jabhat al-Nusra for some reason has been spared by the US-led coalition. There are reasons to believe that it was and still is being spared as the most effective, combat-ready force that opposes the government on the ground, so that when the time comes it can be used to overthrow the legitimate Syrian Government.
You have mentioned Palmyra, and how ISIS fighters are advancing from Iraq, probably from Mosul, and that they are advancing on territories that the US-led coalition is supposed to control. All this suggests (and I hope to be mistaken) that all this is being orchestrated and coordinated in such a way so as to give respite to the criminals entrenched in eastern Aleppo who are still holding so many civilians as human shields. Despite all this, despite the refusal of the militants to allow it, we have helped tens of thousands of civilians get out of Aleppo. They are preventing them from leaving because those who have or may have influence over them, including the US, do not use all the levers at their disposal.
We have brought all these issues to the attention of our US colleagues and other colleagues in the region. Russia's defence and foreign ministries have established direct dialogue with them. There were also top-level contacts this year. We hope that there will be concrete action based on the agreements in principle that there will be no compromise in fighting terrorism and that all those willing to be part of the settlement must immediately join the ceasefire, while all the rest will be destroyed. So far this process has been slow to take off, although there is an overall understanding on this issue. However, the devil is in the details. These understandings must be translated into specific actions.
In fact, this is what we keep talking about with our American colleagues in Geneva. Consultations were held there yesterday and the day before. We still cannot remove a stumbling block that has prevented the implementation of the September 9 Russian-American agreements on re-launching this process. We still cannot resolve this problem, despite the agreements reached between Moscow and Washington, as my contacts with US Secretary of State John Kerry have shown. It is a very simple problem. We suggest starting by clearly outlining corridors for the terrorists, since we know from our past experience that terrorists use every pause to regroup and receive reinforcements from abroad so as to terrorise the local population even more mercilessly. We can coordinate this issue with our American colleagues very quickly. We would pledge that these corridors will not be attacked by the Syrian Air Force, while the Americans would pledge to work jointly with their regional allies to convince the terrorists to leave eastern Aleppo via these corridors. This is what we suggest.
Our American colleagues seem to agree. On December 2, when I met with Mr Kerry in Rome, they supported this idea and even gave us a paper with their plans. But four days later they revoked these proposals and returned to the old dead-end position, under which the coordination of corridors must be preceded by a three, four or seven-day pause.
You know that we have seen this before. It will be yet another respite for the terrorists. I hope the terrorists will be denied further protection, that the United States as a serious power will use its influence with the terrorists and those who control them apart from Washington, so that we can address this problem honestly and above all with due concern for civilians. As I said, we are now doing what the European countries led by France and Britain, the United States and international humanitarian organisations have long been urging us to do. They urged us to allow civilians to leave the city and to announce a humanitarian pause. You can see that civilians are leaving the city even without a humanitarian pause and even though pressure has not been lifted from the terrorists and militants. This possibility has been created by our militaries, who are helping the Syrian Army on the ground. Also, Russia is working jointly with Serbia and several other partners to deliver the bulk of humanitarian aid to the areas that are controlled by the terrorists, where civilians are suffering from the terrorists' actions. The bulk of Western assistance is delivered to the terrorists rather than the civilians they terrorise.
I can talk for a long time on this highly emotional subject, which is connected with the unsavoury actions of our Western colleagues in the media. Those who value facts can see through these machinations, including with regard to Nobel Peace Prize nominees like the White Helmets, who stage their heroic actions, as you can see on YouTube, when they rehearse removing a man from under the rubble three or four times.