Excerpts from Foreign Minister Sergey Lavrov'sanswers to media questions at a joint news conference with UAE Foreign Minister Abdullah Al Nahyan and Arab League Secretary-General Ahmed Aboul-Gheit
February 1, 2016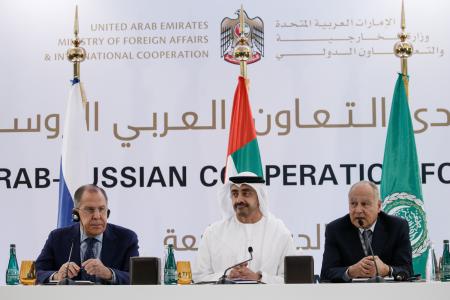 Question: Let's return to the question about Syria. Could you comment on the new US administration's stance regarding the possibility of creating safe zones in Syria? How realistic is that? Do you think it's a good idea?

Sergey Lavrov: I can comment on these statements. We understand that President Trump's administration has yet to specify their approaches. As you know, the idea of safe zones was discussed early on during the Syrian crisis. Back then, they wanted to reproduce a very sad Libyan experience, when the creation of this kind of zone was announced in the Benghazi area, held by the anti-government forces, and something like an alternative government was created there. The international community, in the form of NATO, "rushed to help" this "government" and, in flagrant violation of a UN Security Council resolution, overthrew the Gaddafi government.
I do not see in today's ideas that we are hearing from Washington any attempts to go down that same path. Again, that path was very unfortunate. Everyone realised it after Libya had been destroyed. To this day, we are trying to help the Libyans to restore their territorial integrity, their own state. As I understand it, when the Americans talk about safe zones, they are primarily interested in reducing the number of migrants coming to the West from that region, including Syria. I repeat, we are ready for discussions and debates, and we are ready to listen to the evaluation of the new US administration's ideas. As soon as the leadership of the US State Department takes its final shape, I'm convinced that we will establish contacts with them and embark on a full-fledged regular dialogue. I'm confident that it will be aimed at achieving pragmatic results, calming the situation and promoting settlement in Syria, Libya, Yemen and elsewhere in the region. I'm also certain that this dialogue will not come under a dictate of profoundly ideological motives when it comes to "democratisation" and the like.