Excerpts from Foreign Minister Sergey Lavrov's interview with Kurdish television channel Rudaw
July 24, 2017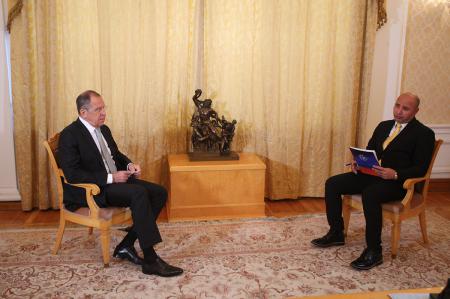 Question: We see that Russian-US dialogue on foreign policy issues is rather complicated. Can Russia and the United States revise their approaches to the problems that divide them and find a basis for constructive interaction, which is necessary for settling many conflicts around the world?
Sergey Lavrov: Russia and the United States, if they take a responsible attitude to the roles they are playing on the international stage, must search for ways to work together on the most complicated issues around the world, such as preventing the proliferation of weapons of mass destruction and strengthening strategic stability. The role of Russia and the United States is unique in these spheres, as everyone admits. No other country can take their place.
We are certainly not happy about the current state of our relations. We have inherited many problems from the Obama administration, time bombs and decisions that were taken by the outgoing administration in a fit of agony, when they were completely demoralised by the election results and decided to spend the remaining time in the White House by doing disgusting things, especially considering its desire to further undermine Russian-US relations.
We see how difficult it is for some people in Washington to show common sense amid paranoid Russophobia, which is flourishing even though many months of investigations have not produced a single piece of evidence of Russia's alleged interference in US affairs. Being a normal person in Washington is rather difficult now.
I didn't even suspect that US politicians could succumb to this mass psychosis. I interacted with many of them during my time in New York. I am surprised at everything that is happening there now. Many of those who have succumbed to this political movement, which is completely abnormal for America, many of them are probably aware of this abnormality and believe that it must stop one way or another. Unfortunately, they are driving themselves up a very high fence, from which it will be very difficult to get down. This campaign must be allowed to run its course. I don't think that anyone can influence it, but it will fizzle out, if only because, as I said, there is not a single fact to prove Russia's alleged interference. Everything the US newspapers and television shows keep talking about has been concocted out of thin air. Sorry for this unparliamentary language.
We have reciprocated to the intention, which President Trump indicated during his election campaign, to find ways to cooperate with Russia. The first meeting, which was held in Hamburg on July 7 following three telephone conversations and which produced an agreement on the de-escalation zones in south Syria, has shown that we can work together and find solutions in both regional and global interests. We have agreed to create a channel for promoting the settlement of the Ukrainian crisis and to discuss the possibility of creating a joint working group on cybersecurity. I believe that this proposal remains topical. Some US Congressmen have accused President Trump of doing a deal with the devil. This is childish. If you are a normal person and you are concerned about Russia's allegedly illegal actions in cyber space, you should be interested in holding a direct discussion with the suspect.
We have long advocated norms of responsible state behaviour in cyberspace at the UN and have submitted a document to this effect. We cannot be accused of trying to avoid this issue. I hope that the American public will not hobble the administration on this issue or prevent it from talking with Russia.