Excerpts from Foreign Minister Sergey Lavrov's answers to media questions at a joint news conference following talks with Austrian Foreign Minister Sebastian Kurz
January 18, 2017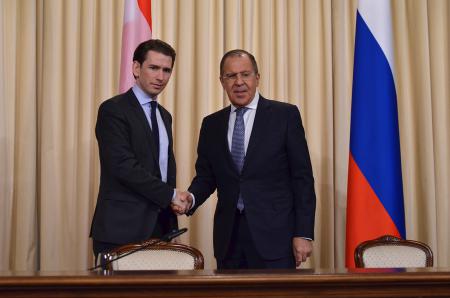 Question: Of late, Western media have been abuzz with stories about "kompromat" (compromising materials), leaks, spy scares and planted stories. Russia is mentioned and accused not only of hacking attacks but of almost everything. Could you comment on this?
Sergey Lavrov: Frankly, we have already started to grow weary of discussing the issue of Russian interference in US internal affairs, in particular the election campaign that ended with the election of Donald Trump as president. Because these baseless, unsubstantiated, slanderous accusations continue to surface, I would like to say that the cynicism of the situation is that we are being accused by those who in fact actively interfered in the election campaign themselves. Through the president and other representatives, Russia has repeatedly stated that we are ready to work with any president the American people vote for in accordance with US law. With any president, whoever the winner is. However, unlike us, a number of leaders of US allied countries openly campaigned for Hillary Clinton. German Chancellor Angela Merkel, French President Francois Hollande, UK Prime Minister Theresa May and leaders of other European states were actively involved in that. What's more, in addition to direct campaigning for Hillary Clinton, official representatives of European countries had no qualms about demonising Donald Trump. For example, my German counterpart Frank-Walter Steinmeier called him, if I remember correctly, a "preacher of hatred." UK Foreign Secretary Boris Johnson even said that Donald Trump is inadequate, while then-French Prime Minister Manuel Valls stated that the Republican candidate was rejected by the entire world. And all of that was said not in a whisper in a narrow circle but loudly and to the whole world.
Perhaps it is time to admit that it was not Russia but US allies who grossly interfered in US internal affairs, in the election campaign. By the way, many of them are still unable to control themselves and calm down. We do not interfere in these squabbles. We, as a matter of principle, stay out of what is currently going on in the US between the outgoing administration and Donald Trump's team. However, the attacks by representatives of Barack Obama's team against the president-elect at times simply appear hypocritical. Just a few days ago, on January 15, when, in an interview with The Times and Bild, Donald Trump expressed his opinion on German migration policy, my counterpart John Kerry said that it was unethical and added up to interference in German internal affairs. And this is said by people who tried to preach to other countries, including Europe (for example, Barack Obama personally campaigned against Brexit) not only in word,
Question: I said that speaking in Congress, the future secretary of state, Rex Tillerson, portrayed Russia as a threat, unlike Donald Trump, whose recent evaluations were positive.
Sergey Lavrov: First, you said there is hope that relations between Russia and the United States will improve. If you harbour such hope, I welcome it. I believe many people hope for normal relations, as befits relations between any two states, and that nobody will interfere in each other's internal affairs, as has been the case with regard to the US administration recently. We have not seen a shred of evidence to substantiate the accusations against us, as I have already said.
We are following what is going on in the United States, the way Donald Trump's administration is defining its priorities and the directions of its activity. What I have primarily read into remarks made by the president-elect is the aspiration to focus his team on more effective efforts to uphold US national interests. This is his starting point. We absolutely agree on this, because it is also the principal goal of Russia's foreign policy. Donald Trump also says that if there is an opportunity to cooperate with Russia to promote US national interests, it would be absurd not to do so. Our approach is exactly the same: In areas where [our] interests align – and there are quite a few such areas – we should and will cooperate with the US, the EU, NATO and any country.
Regarding Rex Tillerson's remarks, I had an opportunity to respond to this question at a news conference yesterday. You provided an abridged version of his remark. He said that Russia today poses a danger but it is not unpredictable [in advancing its own interests. I would suggest that the approach taken by the candidate for secretary of state be considered in a broad context. Again, he stresses that by focusing on US own interests, the new administration will be ready to try to fully understand the interests of its partners, including Russia. I believe this is the most important thing that was said during Rex Tillerson's confirmation hearing.but who interfere in other countries' internal affairs in a way that is far from harmless, with the use of military force aiming for regime change. Therefore this is probably not double but triple standards. We believe that those who make such accusations against us, trying to shift the blame onto someone else's shoulders, should be blushing at the very least.