Excerpts from answers to media questions at a joint news conference following talks with Foreign Minister of the Republic of Armenia Edward Nalbandian
February 22, 2017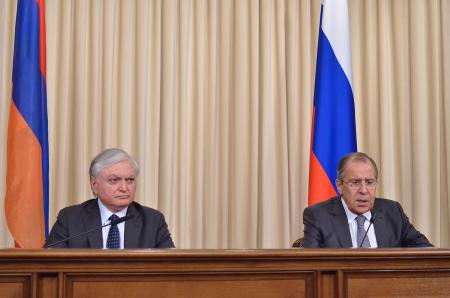 Question: Could you comment on US President Donald Trump's remarks regarding the need to create security zones in Syria, which, according to him, should be paid for by the Gulf countries?

Sergey Lavrov: We touched on this topic during my meeting with US Secretary of State Rex Tillerson in Bonn on February 16 on the sidelines of the G20 ministerial meeting. Mr Tillerson said this concept is being finalised. We await further clarification. We believe that such initiatives should take into account the situation on the ground in Syria, where many players are at work, so to speak, with their ground forces, as well as in the Syrian airspace. Naturally, our position is that any such initiatives regarding Syria's territory should be coordinated with the Syrian government. Otherwise it will be difficult to implement these steps.
We also believe that the initiative on security zones, which was proposed by our US colleagues, was brought about by the need to ensure that the people who temporarily left their homes could be safe somewhere and not be exposed to risks as they set out on a journey with unpredictable consequences. Perhaps this initiative is also aimed at providing conditions to stem the flow of migrants, which is a growing source of concern to European countries and the United States. Having outlined our vision, we are awaiting clarification from Washington. Generally, we are willing to consider other proposals regarding our cooperation in Syria. As such, we hope that – as President Trump and the White House spokesperson both said – the United States is interested in cooperating with us on the resolution of the Syrian crisis. Of course, this includes a relentless fight against ISIS and Jabhat al-Nusra, as well as the political process.

Question: Did you discuss cooperation with Russia and any concrete steps in the Syrian peace process, possibly including the liberation of Raqqa, during your telephone conversation with your US counterpart, Rex Tillerson?
Sergey Lavrov: We did not discuss Syria or any other specific issues. We spoke about that in Bonn on February 16. Yesterday, the US Secretary of State called solely to offer his personal condolences over Vitaly Churkin's tragic death. He made some very warm remarks, in the spirit of the condolences that came from President Donald Trump.