Excerpt from the briefing by Foreign Ministry spokesperson Maria Zakharova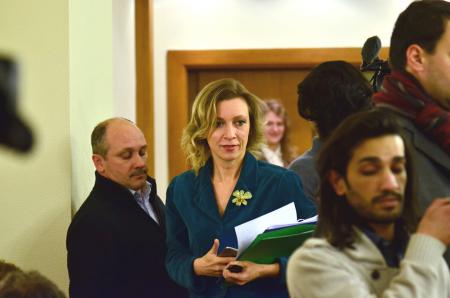 Foreign Minister Sergey Lavrov's talks with US Secretary of State John Kerry
Today, Foreign Minister Sergey Lavrov held talks with US Secretary of State John Kerry, which lasted for nearly four hours.
The talks focused on bilateral and current issues on the international agenda. The parties addressed the situation concerning the internal Ukraine crisis, the Syria peace process and a number of other international issues.
As is known, today, US Secretary of State John Kerry will have a meeting with President Vladimir Putin. The talks will be followed by a joint news conference between Mr Lavrov and Mr Kerry. A video and transcript of the news conference will be posted on the Foreign Ministry's official website after it is over.
Former Pentagon Chief William Perry on the reasons behind the aggravation of Russian-US relations
On the eve of John Kerry's visit, many analysts wondered what led to the deterioration of Russian-US relations and how to improve them. I think this is a question for political science discussions.
Recently I read a very interesting article that was published by The Guardian in the first half of March. The author quotes the words of former Pentagon Chief William Perry who described in detail the reasons for the aggravation of Russian-US relations. I'd like to read excerpts from this article to draw your attention. These are very interesting assessments. They don't claim to be absolute truths but we can hardly talk about absolutes in this context. This is simply an opinion.
Speaking on The Guardian Live, Perry explained the tensions in Russian-US relations as a result of Washington's scornful attitude towards Moscow's concern over security issues after the Cold War. He emphasised that the first wrongful action by the United States was NATO's expansion. NATO began to admit East European countries, some of which border Russia, despite Russia's requests not to do so.
Perry thinks Washington's second mistake was to deploy missile defence systems in Eastern Europe, ostensibly for protection against Iran's nuclear missiles that Iran didn't have. He recalled that Russia's objections were again brushed aside.
Perry believes that Washington's support of "fighters for democracy" during "colour revolutions" in former Soviet republics, including Georgia and Ukraine, was a third factor that contributed to the worsening of ties between Russia and the United States.
I think this is a very interesting view that gives one food for thought. Let me repeat that Perry's opinion does not claim to be an absolute truth. But sometimes it is a pleasure to say there are analysts in the United States as well. But why are they not heeded?
The prospects for development of US-Cuban relations: Barack Obama's visit to Cuba
US President Barack Obama's visit to Cuba on March 20-21 is an important milestone in international affairs. This is the first top level visit between the two countries in 88 years. We hope this visit will culminate the ongoing normalisation of bilateral US-Cuban relations. We have been watching the talks.
Russia has welcomed the building of a US-Cuban dialogue from the start. We are convinced that this process is long overdue. It should contribute to correcting Washington's historical mistake and objectively reflect changing realities. This is our principled position, as well as the fact that the dialogue should proceed on an equal and mutually respectful basis without imposing any political or socioeconomic models, and certainly without a "pat on the shoulder".
We totally agree with our Cuban counterparts that a dialogue should be progressive and irreversible and that it should be aimed at comprehensively resolving the numerous issues that have accumulated around Cuba for half a century. Lifting the trade, economic and financial blockade of Cuba, including the unilateral US sanctions, is a matter of priority. It is odious that the US is keeping the Guantanamo military base that has been turned into an illegal prison.
Awhile back, when this positive direction in US-Cuban relations had just emerged, we were asked how a US-Cuban dialogue would affect Russian-Cuban relations and whether they could be made worse. I'd like to note that Russia and Cuba have the potential for further expanding bilateral cooperation on a range of mutual issues. We are seeking consolidation in accordance with our long-standing foreign policy priorities and in the spirit of strategic partnership.
We also support strengthening Cuba's position as a political coordinator in resolving important global issues and as a specific platform for dialogue, reconciliation and seeking breakthrough solutions for the most delicate issues, as it is the case regarding the talks between the government and the rebels in Colombia, or, for example, the meeting between Patriarch Kirill of Moscow and All Russia and Pope Francis.
From answers to questions:
Question: What is the Ministry's opinion of the draft statement following the Geneva consultations, suggested by Staffan de Mistura, UN Special Envoy for Syria? US Secretary of State John Kerry is optimistic about his visit to Moscow because this is a crucial moment for resolving the Syrian conflict. Foreign Minister Sergey Lavrov has said the resolution of this problem could positively influence the resolution of other issues.
Maria Zakharova: We maintain permanent, virtually daily contact with UN Special Envoy for Syria Staffan de Mistura in Geneva and in New York when he's there. We assess and review his initiatives very attentively. We have also responded to this initiative with the same attention.
Question: This is apparently a 12-point document that has been suggested by Mr Staffan de Mistura. Do you have any information about this document?
Maria Zakharova: Yes. I know that our experts are reviewing it. So far, this is our assessment.
Regarding your assertion that US Secretary of State John Kerry's visit to Moscow is crucial for resolving the Syrian conflict, I can say that the full-fledged launching of permanent and constant work of Damascus with the opposition to chart a common future, rather than visits, are indeed crucial. This includes work on the constitution and the country's political and other systems. It is precisely this process which is a crucial aspect and guarantee of the Syrian settlement. We maintain dialogue with our US colleagues as co-chairs of the International Syria Support Group, with other members of this group and UN representatives in order to make the process successful and to keep it from stalling.
It goes without saying that John Kerry's visit is an important event. This allows us to evaluate and chart opportunities for progress. But comprehensive contact between Damascus and the opposition as they work at their future is a key to success and the only way to achieve a comprehensive Syrian peace settlement.
Today, I'm deliberately disregarding the Syrian issue because joint news conference today with Foreign Minister Sergey Lavrov and US Secretary of State John Kerry will be dedicated to this and other issues. Let's wait and see what they tell us about their initiatives on Syria. Let's leave the Syrian issue to these officials.
Question: Was the case of Nadezhda Savchenko discussed at the meeting between Sergey Lavrov and John Kerry?
Maria Zakharova: Yes, the issue was raised. More information on this issue will be provided at the news conference. I'm not sure this information will be detailed, but the foreign ministers will definitely be able to share their views on this matter.
I'd like to remind you that Mr Lavrov spoke about Russia's stance on this issue yesterday. As for today's dialogue, you'll have to wait for the ministers' accounts.
Question: What is Russia's perspective on renewed relations between Cuba and the US? To what extent could these two countries forge a close and strong relationship?
Maria Zakharova: I've elaborated on this issue in my opening remarks. This is a matter between the US and Cuba. We believe that this dialogue should be mutually respectful and equal. This is what matters the most.
Throughout these years, both the Cuban people and their economy suffered from a decades-long blockade and had to withstand political pressure. Economy affects the people. Nevertheless, these people survived, stood firm and haven't lost faith in themselves or their country, they continued to move forward and deserve to be treated with the utmost respect. I have talked to many Cubans, and visited the country on a number of occasions. Cubans want to be treated in a respectful and equal manner, and don't accept anything else. If these conditions are met, they will be able to decide without us on the areas of cooperation.