Excepts from the Briefing by Foreign Ministry Spokesperson Maria Zakharova
December 27, 2016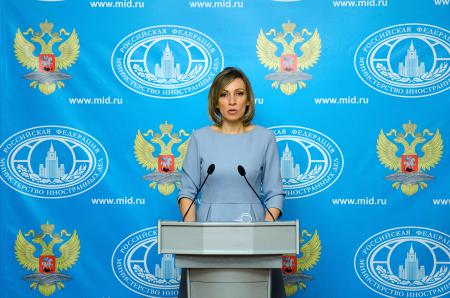 Anti-Russia statements
Unfortunately, the threats we receive don't always come from terrorists. This is surprising, and I spoke about this in an interview, but I nevertheless want to say a few words about it at today's briefing. It will be an update with quotations. Before that, I spoke broadly and quoted from memory. Today I will provide the exact quotations about the threats we received this year not from terrorists but mostly from our civilised colleagues and officials from many countries.
Out colleagues said on the sidelines of the UN General Assembly meeting on September 27, 2015 that countermeasures will be found to our military victories, that the forces we are fighting on the ground may get hold of new shoulder-fired manpads with which they will be able to down our helicopters. It was not the moderate opposition but our "civilised" partners who said this. "We have been asked to give you, Russians, a very tough signal. It will be very difficult to keep back the fury of the people and the controlled opposition, a fury that has been provoked by your actions." This was said on the sidelines of the UN General Assembly on September 30, 2015, during talks between Foreign Minister Sergey Lavrov and his "civilised" colleagues. "Be informed that this will face Russia with yet another new wave of jihadism," they said.
To clarify, let me reiterate that I am quoting official representatives of Western countries.
US Defence Secretary Ashton Carter said on October 8, 2015: "This will have consequences for Russia itself… in coming days the Russians will begin to suffer casualties in Syria."
According to The Wall Street Journal, Defence Secretary Ashton Carter, Chairman of the Joint Chiefs of Staff Joseph Dunford and CIA Director John Brennan voiced increasingly tough views in White House meetings, calling for new measures to "inflict real pain on the Russians".
State Department Spokesperson John Kirby said on September 29, 2016: "Russia will continue to send troops home in body bags, and they will continue to lose resources – even, perhaps, more aircraft… The war will continue. And … more Russian lives will be lost, more Russian aircraft will be shot down."
On August 8, 2016, former CIA Deputy Director Michael Morell called for "covertly" killing Russians and Iranians in Syria. He said: "We need to make the Iranians pay a price in Syria. We need to make the Russians pay a price."
You understand that such statements made by former rather than current officials are designed to influence public opinion and send a clear signal to certain forces in certain countries.
Professor Roman Kuzniar, former Foreign Affairs Adviser to Polish President Bronislaw Komorowski, said on April 21, 2016 about the incident with the USS Donald Cook: "The Russian aircraft could have been shot at. It's a pity the Americans did not do it." This is a clear call to action, and it's clear where this action would lead.
Another of our "civilised" European colleagues, head of the CDU/CSU parliamentary group in the Bundestag Volker Kauder called for holding demonstrations against the Russian policy in Syria. He said he cannot understand why demonstrations are not held at the Russian embassy in Berlin against Russia's intervention in support of Bashar al-Assad. What is this if not a direct call to those who later did what he had recommended? They acted differently, shooting at Russian embassies in some cities, holding demonstrations that disrupted public order and threatened the safety of Russian offices in other cities. And then a Russian ambassador was killed.
Similar calls were made in October 2016 by UK Foreign Secretary Boris Johnson. He described Russia's actions in Syria as incommensurate horror. You probably remember him saying that he would like to see demonstrations outside the Russian embassy, and two or three weeks later such protests were held, and these were very generously funded and well-orchestrated protest actions, not some weak demonstration with two or three posters. Where did the protesters find the money? Who paid for their protests? Who called them to Russian embassies? Who fuelled this hatred, which eventually led to the assassination of a Russian ambassador? All of this was done by the "civilised".
Of course, US Permanent Representative to the UN Samantha Power holds the pride of place in this anti-Russia campaign. She has been openly spreading lies at the UN Security Council, which is a very special place for international law and history.
There are also voices that are not very loud, even if they tried hard. I am referring to our Baltic colleagues. Former Defence Minister of Lithuania Rasa Jukneviciene said that Russia would draw benefits from the murder of Andrey Karlov "first, by using it to prove that they are also fighting terrorism, second, by expecting that this will stop protests over the Aleppo atrocities, and third, by continuing to sow chaos, anxiety and fear." Zygimantas Pavilionis, former Lithuanian Ambassador to the US and currently a member of a nationalist-oriented party, spoke in the same vein. According to him, Russia will use Karlov's murder to try to split the alliance. Are you in your right mind? "The Kremlin needs this to sweet-talk the Trump administration." I cannot imagine a more plain admission of one's mental illness. They don't seem to understand that by saying this they expose their diagnoses, which are best kept secret. Mr Pavilionis also added that "Kremlin's connection to Islamists is a fact." He said this so that the world would find out about him.
This deliberate anti-Russia propaganda, which was conducted for a long time at various levels, has resulted in the murder of a Russian ambassador. The blame is on all those who contribute to this propaganda campaign.
Alleged Russian cyberattacks

An unprecedented anti-Russia campaign has been recently launched at the prompting of the outgoing US administration.
The biggest accusation is that Russia allegedly launched cyberattacks at the US information space with a view to interfering in US internal affairs, in particular, the election system. Russia is being presented as a monster that is ready to encroach on the holy of the Western holies – its democratic principles. Of course, these allegations have not been supported by any facts. You probably remember that we appealed to the United States to produce evidence of this at our briefings, in the Foreign Ministry's comments and in statements made by Foreign Minister Sergey Lavrov and interviews he gave. We asked for at least something, even the smallest facts. We did this publicly and during bilateral talks. You can ask our American colleagues how often Foreign Minister Sergey Lavrov has asked US Secretary of State John Kerry for this evidence. In response, we heard nothing but another helping of nonsense and accusations. It was an orchestrated campaign; nothing was left to chance.
The current trend in the West is to explain their failures by Russia's alleged high-tech interference in their internal affairs. The media have branded Russia as a global aggressor and cyberbully. Yet another full-blown anti-Russia campaign is gaining momentum in the West. At the same time, the uproar caused by Edward Snowden is subsiding; he is not recalled and quoted as often as before, and his revelations are all but forgotten. Snowden's accusations were backed with undeniable facts and exposed the US activities to create a global cyber-spying and cyberattack system, going as far as to tap telephones all over the world, including the leaders of allied states, which undermined the fundamental Western principle – the right to privacy. They are trying to hush this up.
The story about the alleged Russian hackers is an attempt to counterbalance the revelations made by Edward Snowden and other employees of US companies who are connected with cyberspace and real exposures. A few years ago, everyone was talking about them, and investigations were launched into the US cyber policies. Nobody is talking about this now. There is only one country that is involved in cyberattacks, but there is no proof of its alleged crime. Instead of begging for forgiveness and stopping its doings in the global information space, Washington and its partners are working hard to shift the blame on Russia. In fact, they are nurturing a specific image of Russia and the belief that it is guilty of the crimes they themselves have committed.
There is one more vital aspect of this anti-Russia hacking campaign – doublespeak, when the Russian media's highly professional work is presented as cyber-interference in the Western information space. Everything is thrown in – cyberattacks, hackers and the Russian media – to create a negative image of our journalists. The purpose of all these actions is to prevent the public from getting access to full and reliable information.
Question: I have a question about the Obama administration's performance in the sphere of foreign policy. According to the State Department, Secretary Kerry has made America safer over the past four years. His key achievements include the Iranian deal, the Syrian peaceful settlement, and fighting the Ebola virus. What's your take on John Kerry and his department's achievements?
Maria Zakharova: I'm not going to provide any assessments. I think that this question would be best addressed to John Kerry's colleague Minister Sergey Lavrov. You will have this opportunity during a news conference on summing up the foreign policy results for this year. Interestingly, you quoted a representative of the State Department, and I mentioned an interview with Michael McFaul, who was a prominent representative of US diplomacy here for several years. He gave an interview to the Russian media in which he said that all global foreign policy decisions were made not by the State Department but the White House. Could you do me a favour and ask someone at the State Department who was behind the major policy decisions – the State Department or the White House? We will then be able to assess the contribution of each of them to their implementation.
Question: Could you comment on a new US law on defence spending, which makes it possible to supply MANPADS to Syria? What are the possible ramifications?
Maria Zakharova: With regard to arms supplies to Syria from the United States, we are well aware of who these supplies will go to – definitely not the official Damascus. Something tells me that this is not about legal supplies under a contract signed with the Syrian government.
The issue is about a complicated situation in Syria with an ongoing domestic civil conflict, and fighting terrorism, where Washington failed to cope with the task for 12 months having made a commitment to divide moderate opposition from terrorists. How can they supply arms when the United States doesn't know who are terrorists and who are moderate opposition or, as they refer to them, "moderate militants"? Who will these arms go to? Today, you make MANPADS available to moderate militants, and tomorrow they will become terrorists, as was the case elsewhere, with Libya being a graphic example.
Arms supplied by France to Libya later surfaced in Yemen. This has happened to all the countries of the region. First, it is not merely counterproductive but extremely dangerous for the region, which is already teetering on the brink of collapse. Second, who will the arms be supplied to if Washington itself failed to draw a line between the good and the bad guys whom it controls? To be sure, there are forces that are beyond control of the United States and other countries, and have for a long time remained in their own global terrorist isolation.
From any point of view this is, to put it mildly and diplomatically, counterproductive. This is dangerous, harmful, and contrary to all the agreements that were made and signed. The first thing to do is to ask yourself the following question: if everyone including Washington and Brussels have proclaimed the peaceful solution and settlement of the Syria conflict and global settlement of the situation in Syria as their main goal a long time ago, who will these weapons go to then? Is there an established mechanism for doing so? Is it not and will it not be a repeat of the mistakes that Washington and the US-led coalition have already made in other countries?
With regard to signing the package of draft laws, it is now premature to provide any comment given that just a couple of months from now there will be a new administration in the White House, which announced the possibility of revising a great deal of what has been done with regard to such draft laws by the previous administration. I have provided a theoretical comment. I believe there's not much time left before the new US team articulates its foreign policy course and starts implementing it. We'll see.