Deputy Foreign Minister Sergey Ryabkov interviewed by Mezhdunarodnaya Zhizn magazine
August 10, 2016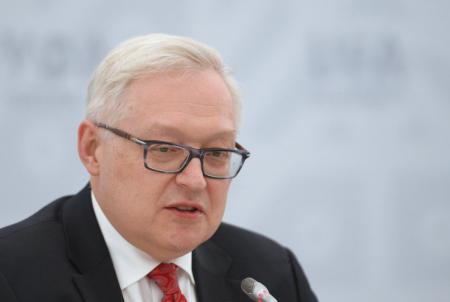 Armen Oganesyan, Editor in Chief of Mezhdunarodnaya Zhizn magazine: Mr Rybkov, there seems to be no vacation season in international life despite the hot summer months. Although some analysts claim that Russia is isolated, the country seems to be involved in almost every major global political development. This even includes the US election campaign. Of course, I'm talking about the US President's recent statement that the hacking of the Democratic Party's server was probably organised by Russian secret services…

Sergey Ryabkov: Yes, the summer is hot, both literally and figuratively. We are in the thick of events, and I think that we're also making waves.
An anti-Russian bipartisan consensus has formed in the United States. We are facing a situation where Russia is being deliberately demonised and accused of almost every mortal sin. US ruling circles and their grassroots supporters are suffering from a kind of anti-Russian complex. They see us as some all-powerful evil which shows they have a serious misperception of the world.
And now they are accusing us of meddling in US internal affairs. We have repeatedly stated, and we confirm once again that, regardless of who is elected the next President of the United States, we will respect the choice of the American people. Only spin doctors who see conspiracy theories everywhere could imagine that Russia is trying to push this election to any specific candidate by hacking into some servers. In reality, this is simply impossible.
I regret to say that this incident with the hacking of the Democratic Party and its National Committee servers, which was reported in May and later hushed up, has resurfaced during the recent Democratic National Convention. Understandably, inter-partisan squabbles have become aggravated in the United States. We might even see more vicious campaign smear tactics. This shows that the contenders don't have enough detailed arguments. Unfortunately, we have to say that the incumbent US administration has become involved in some undignified ploys, and this doesn't befit it.
Unfortunately, we have to deal with this reality. But we are responding calmly, we've reviewed this, the Russian Presidential Spokesman and the Foreign Minister have made statements, and I simply have nothing more to add on this.
Armen Oganesyan: Mr Ryabkov, the media has recently been quoting Donald Trump's statements about the need to improve relations with Russia. Do you think these statements can be taken seriously?

Sergey Ryabkov: I don't normally take words for granted, especially those uttered by American politicians and American diplomats regardless of their rank and authority. One should judge by actions.
We have read the Republican Party's platform approved by the [Republican National] Convention; we follow Donald Trump's statements, and have studied his speech at the Convention. The Republican Party's platform he is using for his election campaign together with Michael Pence, his running mate, includes comments on Russia written in the worst traditions of the past few years. We are accused of being a destabilising force and described as an aggressive nation that is a challenge to the United States and so on. I don't want to repeat the phraseology. So you understand that this is what the Republican Party platform says, and Mr Trump is the party's candidate. So we have to look at the whole picture in all of its dimensions.
Of course, there were signals coming from him that allow us to expect changes. Whether these expectations are realistic depends exclusively on the Americans, not us, on the choice the voters make and on the policy the next president pursues. I must say, Trump's ratings have dropped recently. But there is always an opportunity for a future president whatever party he/she represents – Democratic or Republican – to take a fresh look at the legacy of Barack Obama, which has been nothing but hard, difficult and problematic. Nothing prevents a candidate from reviewing the opportunities and trying to find a new starting point at least, not starting from scratch (we have no illusions about that). We in turn will be ready for a fresh start, and I say this with due responsibility.
They have a saying – it takes two to tango. One of the "two," us, is already there. But our American partner should make a choice and at least decide whether he/she wants to dance at all.

Armen Oganesyan: How much freedom will Donald Trump have in making decisions on revising relations with Russia if he becomes president?

Sergey Ryabkov: The election campaign in the United States, like in any other country, has its own rules. Less than three months are left before the election, but a lot can change in this period. Election campaign rules can possibly provide for a certain refreshing adjustment of a candidate's public image. So, the traditional accepted image of an "independent" candidate may be deliberately reshaped to add some mainstream qualities. Nobody in the US can be expected to win the election independent of prevailing and influential sentiment.
The same situation can be seen in Hillary Clinton's campaign. The Democratic Party's platform is full of ideas that originated with Bernard Sanders. This is the stage of absorbing what should be an appealing feature for those who do not find the main candidate attractive and who prefer his rival who projects "a more independent image" during the primaries.
The candidate who wins the election might be able to overcome the inertia of the American government apparatus. It has happened before in different periods of US history. Will it happen in this case in Russian-American relations? To be honest, I wouldn't venture an affirmative answer because Russian-American relations are unlikely to be a priority for the next US president. It will take some time before Washington starts working seriously on its policy on Russia. Secondly, the next US president, regardless of party, will most likely carefully and frequently consult his/her staff about relations with Russia. The next president's staff will be strictly controlled by the establishment who believe that "you should never concede to the Russians" and that Russia has recently done a lot of things detrimental to US interests. I have to say this over and over again – we should not harbour any illusions or unjustified hopes.
This is a reality that cannot be stopped or changed. The United States' political inertia will continue even though the US president has the authority to override it. As history shows, the algorithm of our relations will change again at some point and be more positive. The barometer will definitely go up again. But it is entirely up to the Americans as to when this will happen.
Armen Oganesyan: Mr Ryabkov, can we take Trump's statements as an indication that the American audience has become tired of anti-Russian rhetoric and a hardline approach towards Russia, and that Trump is attempting in this way to win over more voters?
Sergey Ryabkov: I would not overestimate the importance of statements made at various points in the election campaign by the candidates and their campaign spokespeople. This is not because they do not reflect particular moods. After all, US sociology practice and public opinion measuring tools are advanced enough to identify the slightest changes in the way the wind is blowing, but I wouldn't exaggerate the weight of statements made during election campaigns because there is a huge distance between the words and the actual acts. Of course, it is good to see that some in the US show a desire to inject new life into the forgotten issue of building constructive relations with Russia. We do not neglect this issue and on the contrary repeat tirelessly that this is our goal and that ultimately it is up to our partners in Washington to decide what they want. But the idea that saying they need to make friends with Russia could play a positive role in the election is debatable.
As for the extent to which US voters really are tired of anti-Russian rhetoric, there is probably some demand for a more positive alternative to the current anti-Russian overdrive, but US voter weariness has more to do with the growing problems in their own country. The politicians currently in office, the Washington establishment, the senators and congressmen, these bonzes sitting up on the Capitol and lobbying the transnational corporations' interests, and their suite that lunch at Washington's countless restaurants and decide things over a glass of still water, all of these decision-makers, spin doctors, newspaper hacks, they create a whole camarilla, a superstructure that formulates America's domestic and foreign policy but does not provide answers to the growing number of questions concerning above all the current difficult state and development outlook of American society itself. This is what's at the root of voter discontent in the US. Russia is more of a sideline issue, but let's wait and see how things shape up.
Armen Oganesyan: Some say that we should not expect any significant developments in Russian-American relations until the US presidential election is over. But the Secretary of State John Kerry suddenly came to Moscow and spent hours in talks first with President Vladimir Putin and then with Foreign Minister Sergey Lavrov. This suggests that the Americans need something right now.

Sergey Ryabkov: The Secretary of State spoke publicly about this, and I will not presume to interpret the US Administration's intentions or objectives, but I remind you that before his July visit to Moscow, and during the joint news conference with Mr Lavrov on July 16, he said that it is crucial for Washington to make progress on the Syrian issue. The July talks were so long – 14 hours – because they were very complicated as we and the US have differing visions of what needs to be done to create the right conditions for stabilising the situation in Syria.
We take the view that must finally ensure not just declarative but real distance between ISIS and Jabhat al-Nusra, which are banned in Russia, and the so-called moderate opposition and give the coalition headed by the US, Russia, and Syrian government forces the chance to concentrate on fighting terrorists and thus put in place the additional conditions needed for the moderate opposition to be able to enter real and direct talks and continue participating in the process coordinated by Staffan de Mistura.
Unfortunately, the US has a somewhat different approach and priorities. Washington considers it important that we and Damascus do nothing that in their view will reinforce the current legitimate government in Syria, including as regards the combat with the opposition. The Americans insist on a one-sided and unbalanced ceasefire. The 'hawks' in Washington want to see the Syrian government forces tied down to a great extent by Russian-US agreements. This is something we cannot accept.
We still have differences too concerning Bashar Assad's future role. This is why, to be frank, we all performed such a lengthy and protracted balancing act while John Kerry was in Moscow. But we did reach some agreements and there is slow progress. Mr Lavrov's meeting with Mr Kerry in Vientiane on the sidelines of the ASEAN event was a new step towards stabilising the situation in Syria. Our militaries continue to work closely together and have direct contact with each other.
What we see is that the US Administration wants to make progress on Syria, Ukraine and several other issues, regardless of how long they have left in power. In Washington they think this will become part of Barack Obama's positive legacy, and the Secretary of State is working hard on this. We continue to advance our priorities and defend our interests.
To be continued...
