Comment by the Information and Press Department on US Secretary of State John Kerry's visit to Russia
July 11, 2016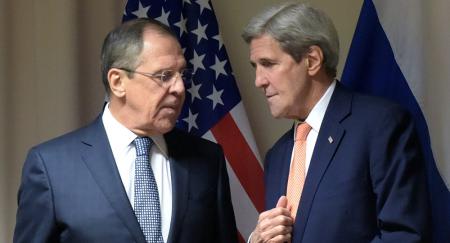 On July 14-15, US Secretary of State John Kerry will be in Moscow on a working visit. He is expected to meet with Foreign Minister Sergey Lavrov to continue the discussion of key issues on the bilateral and international agendas.
Russian-US relations remain complicated. The unfriendly steps Washington has been taking since the beginning of 2014 have seriously compromised relations between the two countries, resulting in the disruption of ties in many areas and Russian individuals and entities being hit with sanctions that run counter to international law. All this has led, among other things, to bilateral trade shrinking by one third.
Russia has reciprocated to US attempts to inflict damage, including its dangerous military initiatives. At the same time, we persistently tell the US that a confrontational policy towards Russia has no prospects for success and could even be dangerous, while constructive relations are only possible if based on equality, non-interference in Russia's domestic affairs and consideration for Russia's interests.
A Syria settlement is a main point of focus in the ongoing dialogue with Washington. A ceasefire has been put in place since February 27 across a substantial part of the country with Russia and the US playing a leading role in achieving this result as co-chairs of the International Syria Support Group. Russia and the US maintain regular political and specialist contacts, including between their respective militaries, with a view of reinforcing the ceasefire, ensuring humanitarian access, fighting terrorists and facilitating intra-Syrian talks.
A lot of attention is given to the resolution of the Ukraine crisis and the implementation of the Minsk Agreements. The two countries are proactive in exchanging views on other regional issues as well, such as the Nagorno-Karabakh settlement, the situation in the Middle East and North Africa, developments in Afghanistan, and the Korean Peninsula.
Russia has consistently urged the US to remove the key bilateral irritants created by Washington, including efforts to hinder the normal operation of Russian diplomatic missions. We demand that the US secret services stop their "hunt" for Russian citizens in third countries and liberate "kidnapped" compatriots. Russia is also committed to standing up for the rights of Russian children who have been adopted in the US.
Russia has always stressed the importance of developing closer people-to-people ties in tourism, as well as cultural, sports and academic exchanges, since such ties improve mutual trust. We note that the implementation of the 2011 Russia-US agreement to ease visa rules has been an overall success.
We hope that US Secretary of State John Kerry's visit to Russia, which will be his fourth visit since May 2015, will help improve the atmosphere of Russian-US relations that are instrumental in terms of maintaining global stability and resolving a wide range of international issues.