Comment by Konstantin Dolgov, Russian Foreign Ministry Commissioner for Human Rights, Democracy and the Rule of Law, on his telephone conversation with Konstantin Yaroshenko
March 30, 2016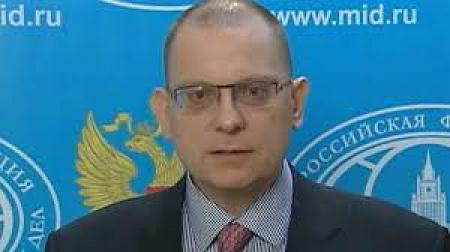 On March 29, Konstantin Dolgov, Russian Foreign Ministry Commissioner for Human Rights, Democracy and the Rule of Law, spoke over the phone with Russian citizen Konstantin Yaroshenko who is serving a term in the United States. Almost six years ago he was abducted in Liberia by employees of the US Drug Enforcement Administration with the support of local police, transferred to the United States and hastily accused of an attempted drug trafficking.
During questioning over the phone, Yaroshenko confirmed numerous crude violations of his rights, freedoms and legitimate interests under US legislation and, primarily international law, both in Liberia and later in the United States. Thus, he was abducted by US agents in Liberia, subjected to torture and inhuman treatment that severely undermined his health. His current condition requires continued, qualified medical screening and treatment, which he is still being denied.
After staging a politicised trial and passing an absolutely unjust sentence, the US authorities fail to fully abide by their obligations to provide Yaroshenko with proper incarceration conditions. He said his health has slightly improved after a recent operation but he is still seriously short of the medicines required for efficient treatment. At the same time his other health problems are persisting and even becoming aggravated. He acquired these problems, in part, through the fault of the US authorities.
We note that although the US side was provided with Yaroshenko's written consent as it required, his clinical record has not yet been transferred to his attorneys and consular officers of the Russian Federation. This is an obstacle to receiving fuller information about the real medical condition of our citizen.
Yaroshenko also reported that he was repeatedly put into a disciplinary cell for obviously far-fetched reasons. The last time he was put into it right before the afore-mentioned surgical operation.
The information received from Yaroshenko confirms the conclusion that his lawful rights continue to be crudely violated. We will submit relevant information to US official representatives, urging them to ensure his lawful rights and interests and, in general, to put an end to the illegal practice of the exterritorial application of US legislation and arrests of Russian citizens at Washington's request in third countries, which runs contrary to the standards of international law.
We hope this information which we will also submit to Yaroshenko's attorneys, will be considered in court, which is due to review in early April his defence team's appeal to reopen his case upon the discovery of new facts. We will continue working for Yaroshenko's return home, using relevant mechanisms of international law.