Comment by Foreign Ministry Spokesperson Maria Zakharova on certain publications regarding the Treaty on Open Skies
March 12, 2016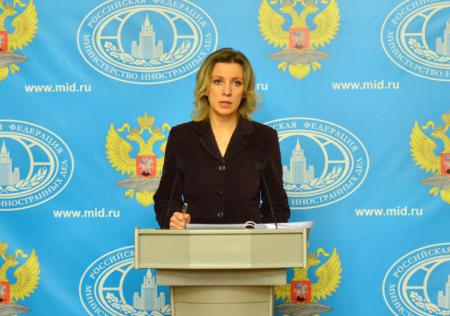 Some recent US media publications are attempting to cast doubt on Russia's role in implementing the international Treaty on Open Skies. They are quoting senior Pentagon and US intelligence community officials. The conversion of treaty related equipment to digital technology is raising a fuss.
It would be appropriate to recall that it was Washington that initiated the Treaty on Open Skies and the current conversion to digital monitoring technology. Recently, a US delegate at the Open Skies Consultative Commission in Vienna claimed that the treaty's digital technology is a demand of the times, and that the treaty had no future without it.
It appears that the mood of some segments of the US establishment has now changed. During the 23rd year of this multilateral agreement's existence, they have now started claiming that only Russia benefits from the treaty because it allows it to obtain substantial data on strategically important US infrastructure. The advocates of this opinion mention their own reconnaissance flights over Russia and the flights of other NATO countries only in passing.
Officials in Washington who are concerned about this issue believe that converting treaty related equipment to digital technology would aggravate the situation because Russia would be able to obtain additional data from the more advanced cameras while processing digital data collected during any given flight. These "experts" on the treaty are deliberately avoiding the fact that it took a group of international technical experts headed by the United States in Vienna many years to draft special procedures that would rule out this possibility.
Russia was the first treaty signatory to pioneer the use of digital cameras. In 2013, the first Open Skies platform, based on an An-30B plane equipped with a Russian digital camera, was certified. In turn, the United States was reluctant to sign its certification protocol for a long time. After signing it, the US did its best to prevent Russian-made digital equipment from appearing in the skies over America. A unilateral interpretation of the treaty's provisions regarding transit overflights by our US colleagues led to the cancellation of an An-30B flight over the United States in 2015. In 2016, the Russian Defence Ministry is planning to hold an international examination of a Russian-made Tu-154M Lk-1 observation plane featuring a camera identical to that used on the An-30B.
The Tu-154M Lk-1 is primarily intended to fly observation missions over the United States and Canada and the remotest European countries. This explains the heightened nervousness bordering on attempts to openly discredit the treaty which, in reality, guarantees the equal rights and responsibilities of all of its signatories. One also gets the feeling that the "alarmists" are therefore trying to pave the way for torpedoing the certification procedure of the Russian observation plane, scheduled for the summer of 2016, under far-fetched pretexts. If so, this would seriously impair the viability of the Treaty on Open Skies.