О телефонном разговоре Министра иностранных дел России С.В.Лаврова с Госсекретарем США Дж.Керри
June 13, 2016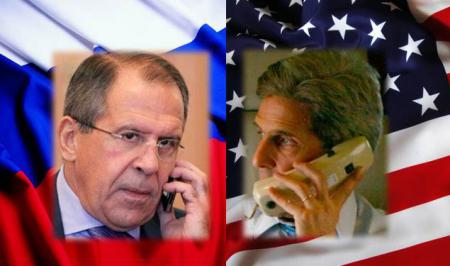 On June 13, Russian Foreign Minister Sergey Lavrov talked by telephone with US Secretary of State John Kerry, the US side initiating the conversation.
They discussed the situation in Syria, including the possibility of Russian-American cooperation in fighting the terrorist organisations operating there. Mr Lavrov once again stressed the need to urgently distance the US-oriented anti-government forces from the Jabhat al-Nusra group linked with Al-Qaeda, which is currently on the offensive under the guise of "moderate opposition" squads. He also pointed out the unacceptability of delivering supplies to terrorists through the open border with Turkey.
The two officials touched on other international issues, including the conflict in Ukraine, and some aspects of bilateral relations.
Mr Lavrov expressed his sincere condolences to the US Secretary of State over the bloody shooting in the US city of Orlando that killed dozens of people.